Quality and Continuous Improvement
Creation's Commitment to Quality
Creation manufactures and designs to all major standards.
Quality Certifications & Regulatory Expertise
ISO 9001:2015, ISO 13485:2016, ISO 14001:2015, AS9100D
UL, CSA, TUV, CE, FDA, FM, MET, ETL, IEC, IECEx, JPAL
IPC RoHS Compliance Certification and RoHS Exemption Management
FDA-Registered Business Units
International Traffic in Arms (ITAR) Registration
Canadian Controlled Goods Directorate (CGD) Registration
Customs Trade Partnership Against Terrorism (C-TPAT) Registration
Business Systems Validated for ITAR and CGD
Customer & Government Source Inspections
AS9100D Roadmap, FAA NAS Requirements
IPC-A-610 and IPC-J-STD-001, Class 2 and Class 3
MIL-STD-810F, IPC/WHMA-A-620 & MIL-STD Wiring and MIL-DTL-3100
Familiarity with Offset Credits & Programs
Customer Benefits of Creation's Continuous Improvement
Creation has a unique and potent combination in the EMS industry. We identify and add value for our OEM customers. Continuously.
Improved Cash Flow
Scale rapidly. Some of Creation's customers have improved inventory turns and reduced carrying costs by as much as 65%, by working with us to establish a lean production program that makes sense.
Fewer Customer Returns
See your field failures cut in half. Combine Creation's ISO 9001:2015, ISO 13485:2016 and ISO 14001:2015-certified facilities with expert in-house test engineering resources for continual improvement to product quality and reliability.
Improved Productivity
Reduce administrative burdens like managing suppliers. Limit time spent rescheduling deliveries to just minutes a day, and get all the visibility you need through Creation's Customer Portal.
Satisfied Customers
Improve your on-time shipments to your customers with Creation's responsive team and process, and options for direct order fulfillment. One of Creation's customers improved their OTS from 80% to 98.4%.
Less Exposure
Creation's team of supply chain, Six Sigma and demand flow experts can help you mitigate your risk of excess inventory in any given product line and manage obsolescence.
More Delivery Flexibility
Creation's 'Thinking in Action' approach to product supply programs will help you conquer your demand variability. Implement a production and delivery strategy that's optimized specifically for your unique products, geographies and customers.
Creation's Scorecard: Thinking in Action®
As part of Creation's Journey, we have developed a unique Scorecard to help us gauge our progress in our Endless Pursuit of Perfection.
Twice a year, our Quality & Lean team in each business unit does an in-depth assessment of many different factors: how we're serving our customers, materials flow and supply chain, Continuous Flow, etc.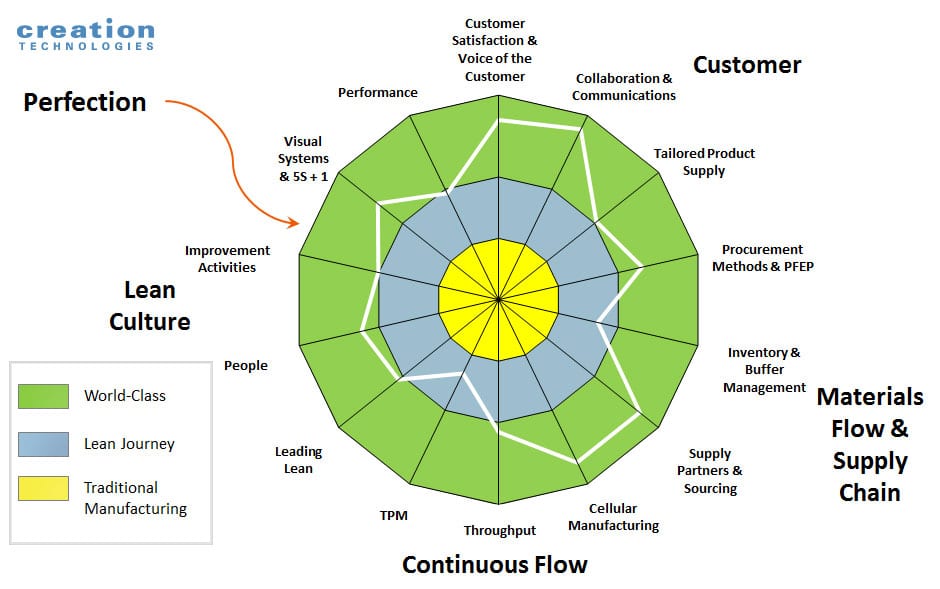 Creation's Proactivity, End-to-End Expertise, Quality, and Six Sigma Knowledge Combine to Deliver Tangible Benefits to OEMs.
Continuous Improvement and Cost Reduction
Like many EMS providers, Continuous Improvement is a philosophy Creation Technologies applies in our production environments through Manufacturing. But it doesn't stop there.
Creation also has a Supply Chain, a Product Development model, and even some Accounting.
---
When you partner with Creation, you can be sure we'll understand your products.
The more you can help us understand your business goals and risks, the more we can help you find new ways to be successful.
Six Sigma Black Belts, Green Belts and Creation's own Blue Belts leading regular Continuous Improvement activities, and dedicated program management on your Customer-Focused Team driving value-added initiatives in operations and quality
Dedicated project management on your Customer-Focused Team driving Value and Sustaining Engineering activities, and expert support for engineering change orders (ECOs)
Access to integrated Creation Design Services team for turnkey product design and re-design
Creation's electronics manufacturing services go beyond basic assembly and integration to deliver the technical excellence and delivery flexibility that can transform your supply chain.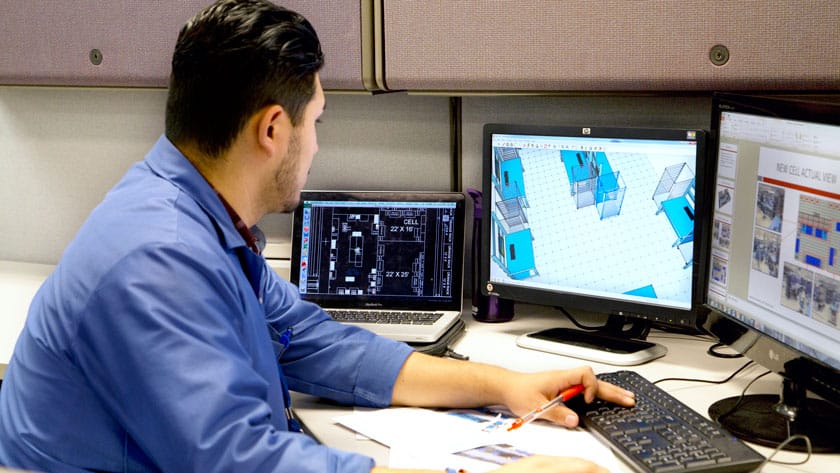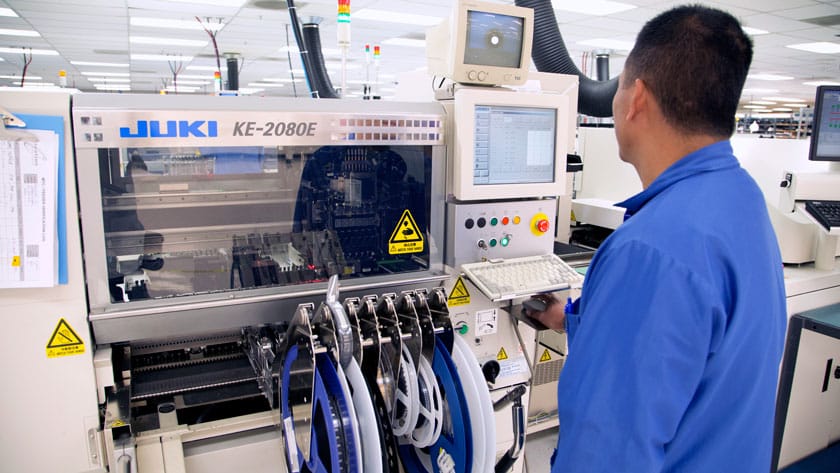 Quality Results at Any Point in the Product Lifecycle
Creation Technologies produces some of the most complex and technologically advanced products in the world.
Leverage our experience across markets from the high-growth to the highly regulated.
---
When you work with Creation, you plug in to our high-performance production environment built for cellular and lean manufacturing.
But you can also reap the benefit of working with a full-service provider with specific expertise in Quality and Regulatory Product Design and Development.
Regulatory Expertise for Your Entire Product Lifecycle
Reduce stress and improve margins. Leverage Creation's regulatory expertise, experienced and certified people, and company-wide best practices for premium quality.
Creation's Vision Customer Portal provides you with access to detailed quality information and analysis so there's no second-guessing.
---
Standardized procedures, business and quality systems, equipment and training across all Creation business units for your Business Continuity advantage
Certifications including ISO 9001:2015, ISO 13485:2016, ISO 14001:2015 & AS9100
Registrations including FDA, UL, CE, CGD, ITAR and C-TPAT
Vision Customer Portal for real-time supply chain, production and quality data including Test Yields and Trend Analysis, AOI DPMO Trend Analysis and Defect and Rework Data
RoHS-compliant and lead-free materials handling and processing