Quickly convert your demand into revenue with expert Rapid Prototyping and New Product Introduction (NPI).
Effective New Product Introduction (NPI) Takes Your Product Demand And Converts It Into Revenue-Generating Opportunities Through Rapid Launch And Time-To-Volume.
Since 2009 alone, we've launched 7,000 products quickly, cost-effectively and with the expert program management that enables you to allocate valuable resources elsewhere.
Learn more about how Creation Technologies helps OEMs reap the rewards of their hard-earned sales and marketing efforts:
Creation Design Services Design Centers
Creation Express Services Rapid Prototyping Center
Creation's Worldwide Manufacturing Facilities
Learn about Creation's Global Leverage
Hands Down the Best Contract Manufacturer
"Creation is hands down the best CM that I have ever interfaced with. Please let your team know that [our company] is extremely thankful for all the hard work and attention to detail that we have seen from your team. It is truly truly rare to find a group like yours! Thank you again."
Design Engineer, Thermal & Infrared Imaging Instrumentation OEM
Creation Express Services Gives You Rapid Results and A Better End Product
Achieve your vision quickly with our technology, supply chain and manufacturing expertise.
Creation Express Services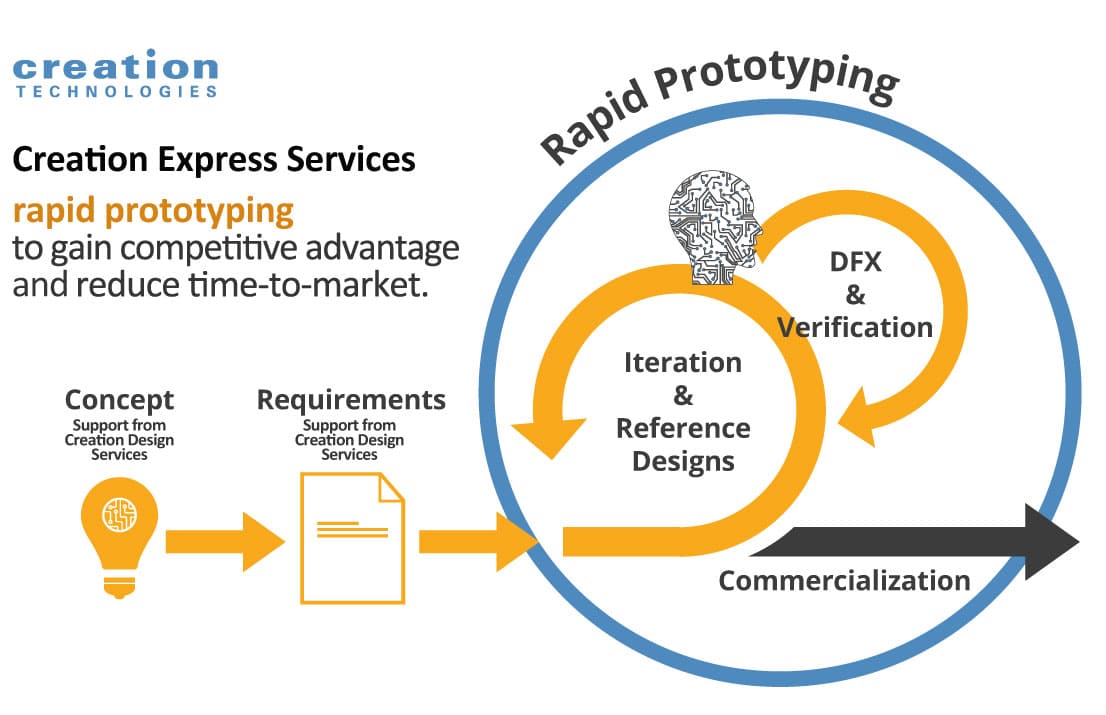 Generate More Revenue in Less Time
Start with Creation Express Services' expert engineering prototyping, validation and initial low-volume production.
Then experience pain-free transition to manufacturing in the optimal location for your product. Including China and Mexico.
Product design, commercialization, rapid prototyping, NPI and low-volume production tailored for manufacturing transfer of products from the simple to the complex
Project management experts dedicated to streamlining the manufacturing transfer process and supporting your ramp to high-volume production
Expert processes for effective communication across languages and time zones
Standardized procedures, business and quality systems, equipment and training across all Creation manufacturing locations for ease of transfer and business continuity for our customers
Creation manufacturing business units around the world, including Canada, USA, China and Mexico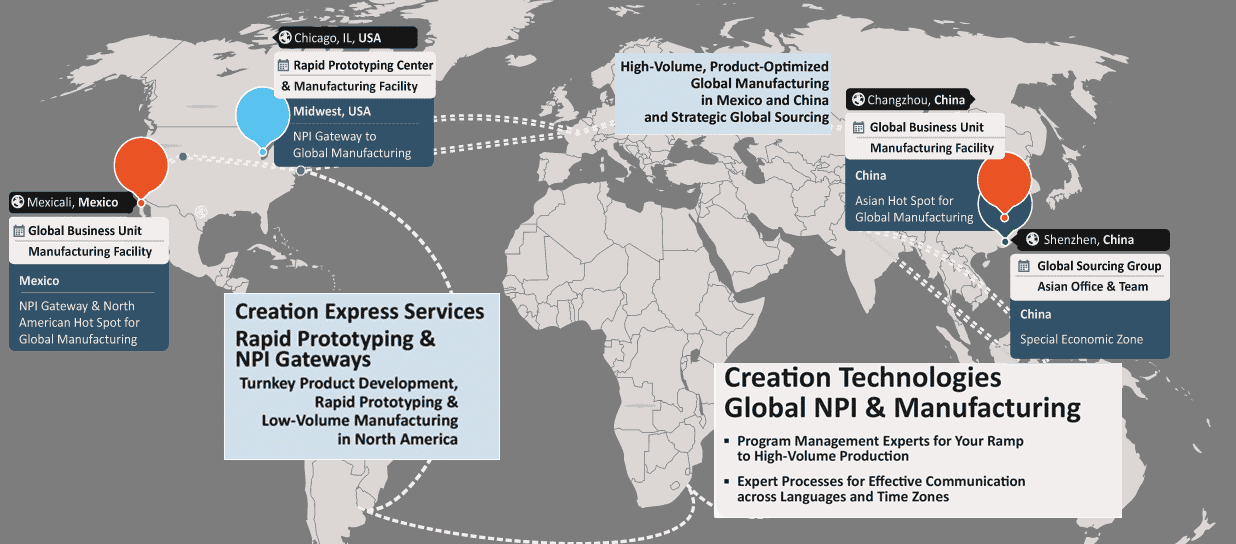 Get Information When You Need It
Prevent costly roadblocks and mitigate risk by working with a partner whose culture is built on relationships and open communication.
At the point of launch when timelines are critical, we don't believe in telling you only the good news.
Confidence and expertise to provide you with recommendations and direction
Effective communication of critical Information throughout product launch
Peer-to-peer interaction with the team that is launching and manufacturing your product, who also has all of the decision-making capabilities
Manufacturing Transition Toolbox resources dedicated to providing you with visibility from start to finish
Vision Customer Portal for real-time supply chain, production and quality data
A Product Transition Methodology That's Proven To Work
Leverage Creation's clear, documented methodology and in-house expertise that expedite the NPI and Manufacturing Transfer process from kick-off to full-volume production and fulfillment.
Alignment on critical expectations and milestones from the outset
Dedicated project managers, and defined roles and responsibilities for both Creation and our customers
Extensive Manufacturing Transition Toolbox with collaborative project management resources: project planning, tracking and reporting
Early consideration of regulatory and product-specific requirements
Proven Creation-wide product transition methodology makes launching in multiple Creation locations a breeze, including those in our Global Business Units in China and Mexico