More than Just Design for Procurement
Get complete alignment between your sourcing strategy and your business strategy with Creation's Global Materials Sourcing, Design for Supply Chain, and Design for Procurement.
Creation's customers and collaboration are at the heart of our supply chain expertise and model.
At Creation, we use the insight from our supply base relationships, PLM tools, global market intelligence and custom business systems to provide you with scalable and efficient supply chain solutions.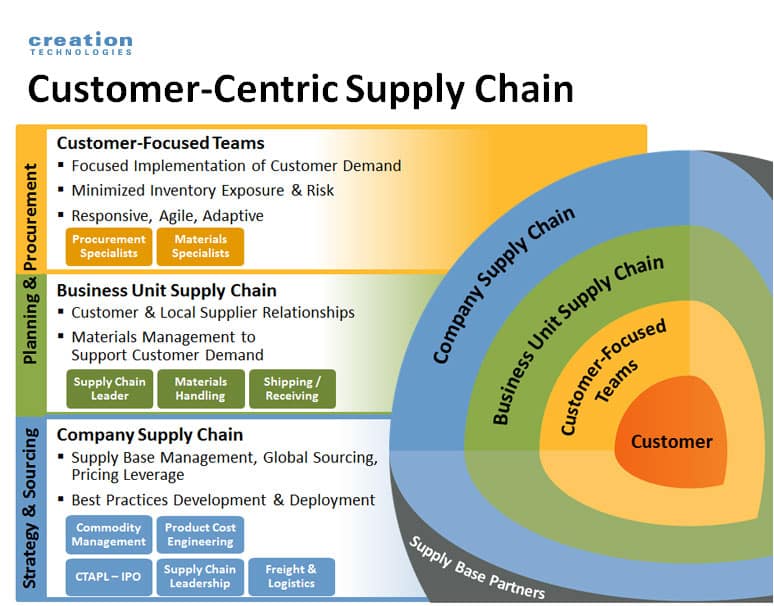 Learn More about How Design for Supply Chain Can Help You
Creation Technologies: Right-Shore Global Materials Sourcing
Some of the best opportunities for risk mitigation and cost reduction are tied to taking a holistic view of the product lifecycle, in addition to a holistic view of your global production and sourcing strategy.
Creation's Global Sourcing Activities and Capabilities Include: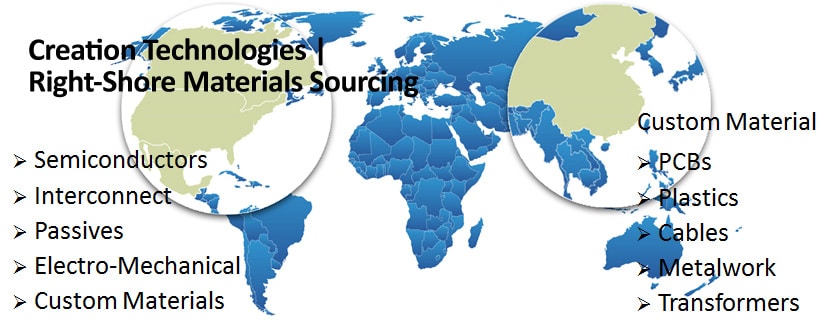 Expert Procurement through Creation's Global Materials Group
Established in 2006, Creation's International Purchasing Office (IPO) in Shenzhen is dedicated to sourcing the best materials at the best cost possible.
Creation Technologies Provides You with Expert International Procurement, Quality and Logistics Management:
Qualified and strategic suppliers for both off-the-shelf and custom materials, such as printed circuit boards (PCBs), metals, cables, plastics and transformers
Strategic sourcing and quality engineering professionals for high-quality materials and supplier accountability, and customs and logistics documentation
Team members based in Shenzhen as well as in Vancouver, BC, who are well-versed in social and business cultural differences, and who provide excellent communication across languages and time zones
Creation Technologies Steps Up Efforts to Reduce Supply Chain Risk
The team at Creation Technologies discuss how Creation is mitigating supply chain risks.
Design for Supply Chain, Plus Design for Procurement (DFP)
Prioritizing Design for Procurement (DFP) that includes global sourcing at all stages of the product lifecycle can drive significant advantage in sourcing and procurement.
Supply chain design and supplier selection for speed, scalability and cost-effectiveness, without sacrificing quality
Design for Procurement (DFP) and Project Lifecycle Management (PLM) tools that mitigate your risk and optimize your supply chain, from NPI through product end-of-life
Market intelligence: insight into changing costs and lead times
Cost of Quality of supply base, and recommendations for alternates and AVL improvements
End-of-Life (EOL) component management and strategic buffers, including counterfeit risk reduction through a very limited number of preferred Independent Distributors
Lean Supply Chain – Plan for Every Part (PFEP) and Vendor-Managed Inventory (VMI), lean procurement and materials management programs based on raw material characteristics as well as your product delivery strategy
Inventory, packaging and logistics strategy