Fulfillment and Logistics
Your products, direct to your customers, anywhere in the world.
Scalable supply chain solutions are dependent on visibility, communication, and integration of the value chain throughout your product's lifecycle. They are also dependent on exceptional program management.
Creation Technologies has both.
Leverage Creation's end-to-end offering, quality and Lean expertise, and expert program management to provide your customers with a better experience through streamlined order customization and rapid delivery.
Learn about Creation's Tailored Product Supply Solutions
Fulfillment Solutions that Add Value and Reduce Cost
"The overall value of working with Creation to support and manufacture our complex products is the primary reason we have expanded our business with you. Creation's ability, and willingness, to add value by accommodating and fulfilling the detailed requirements that exist within our order fulfillment process is extraordinary. And we are able to reduce manufacturing costs at the same time."
Director of Operations, Wireless Communications OEM Specializing in Industrial Automation & Networking
Your Products, The Way Your Customers Want Them.
Creation has decades of expertise working with our customers to tailor solutions for highly configurable and complex products that have significant demand variability.
These same supply solutions that improve your performance to your customers will also improve your inventory turns, cycle-times and logistics.
You get the satisfaction of knowing that you're reducing costs with Creation's integrated model that's optimized for concept-through-after-market, while gaining the efficiency and speed you need to keep your edge.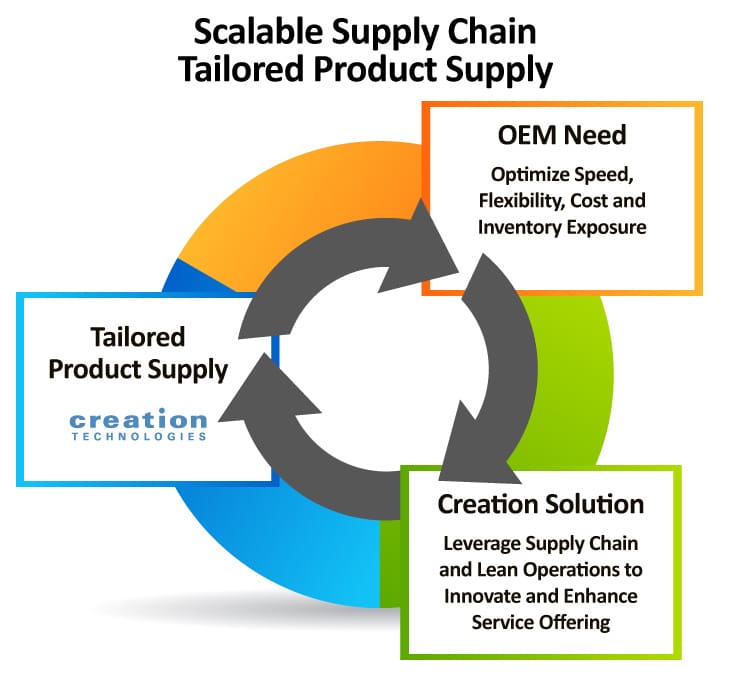 Take Advantage of Creation's Integrated Manufacturing and Fulfillment Solutions to Shorten Lead Times, Reduce Total Logistics Costs, and Improve Customer Service and Asset Utilization.
Responsive Direct Order Fulfillment for Simple or Complex Products
Improve your finished good inventory turns and reduce carrying costs with Creation's solutions for Direct Order Fulfillment.
Conquer your Demand Variability with Creation's Tailored Product Supply
Focus on your customers, not on your manufacturing capacity. Creation Technologies has the Lean Thinking in Action tools to implement a production and delivery strategy that's optimized specifically for your unique products, geographies and customers.
Logistics Solutions to Improve your Cycle Times and Visibility
Free up your resources and mitigate risk with Creation's logistics, warehousing and inventory management services.