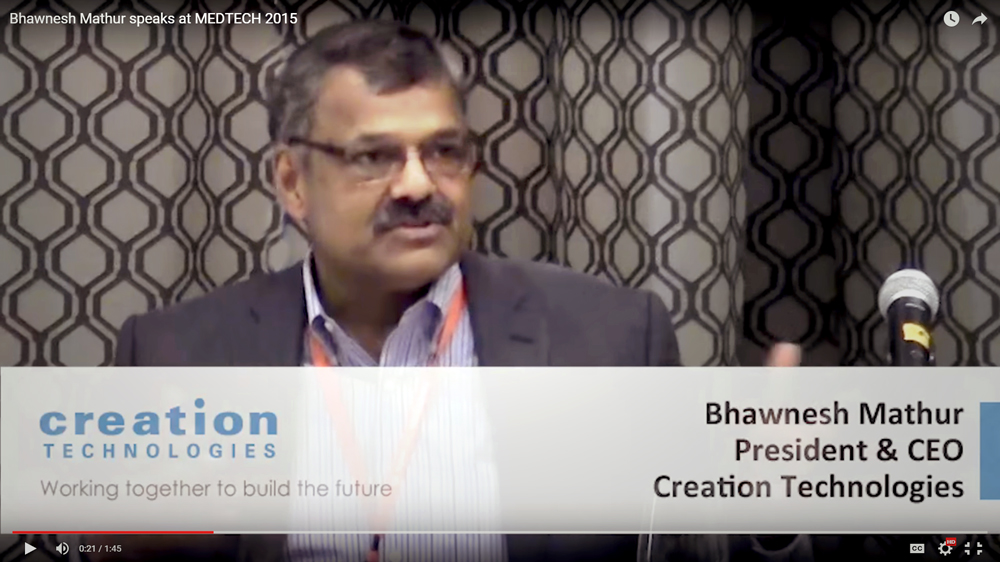 How are solution providers like Creation Technologies innovating to drive long-term growth and success as companies, and as business leaders in manufacturing and the high-tech sector? Collaboration plays a defining role.
Bhawnesh Mathur, Creation's President and CEO, recently shared his thoughts on collaboration throughout the business ecosystem on the Manufacturing Innovation panel on the Strategy & Development Track at MEDTECH 2015 in Buffalo, New York:
"The world has discovered that you don't have to have a lot of patents [to be successful]. We say that patents are a measure of how innovative we are, or that our country is, but that isn't necessarily the case.

I think what we've learned in the last several years is that collaboration between, i) academia and businesses, and ii) businesses working together and sharing resources and costs, creates technology that makes the country more innovative, and helps the country become more growth-oriented.

With the deployment of NNMI – the National Network for Manufacturing Innovation where companies and academia are working together – that [organizations] are working together because I think they believe that we can develop technology better, faster, that way. I think they believe we'll create more jobs in North America that way, they believe there is a faster route to innovation that way. It's a model that doesn't [provide a particular company with] a lot of patents.

I think what's happened to the world over the last several years is that, while I absolutely agree with [others on the panel] that you have to protect customers' intellectual property, and trade secrets and capture [critical information] in your QMS (Quality Management System), that this fear that we've got to have thousands or millions of patents to be "good" is something that runs contrary to collaboration and working together to [create] a more robust economy."
Now us marketing folk are always thinking about our value proposition and how we can drive customer success. At Creation, though, it's literally everyone across the company who thinks about our enterprise value as more than just a measure of growing revenue and improving profitability. As more than just a function of winning business.
I'm proud, and lucky, to have a CEO, a leadership team, and a company culture dedicated to building strategic partnerships through collaboration, candor and shared objectives. A team that sees collaboration as intrinsically tied to innovation and long-term success. As the responsibility of a corporation in the economic ecosystem.

To the MEDTECH conference attendees, Bhawnesh posed the question:
"Do we want to share with each other, or patent what we know? It's an interesting dilemma. My observation is that [the global mindset] is changing more toward working together and delivering more success."
Our motto of Working Together to Build the Future is core to the value we believe Creation Technologies provides as an EMS partner. What role do strategic relationships and collaboration play in your organization's plans for growth and long-range contribution as a business leader?

Watch the video: