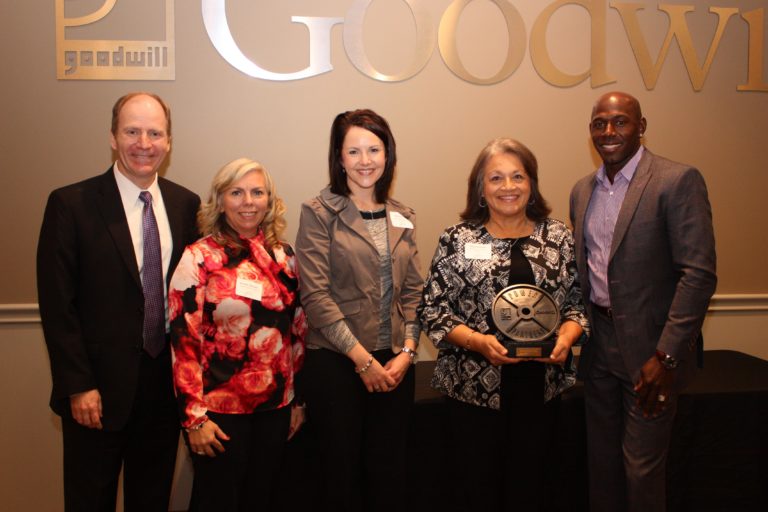 Empowering people and communities through employment has long been the mission for Goodwill Industries of Southeastern Wisconsin. For nearly a century, the non-profit organization has helped people with disabilities and disadvantages find paths to long-lasting, meaningful careers through education, training and job seeking services.
Recently, Creation's Chicago and Milwaukee business units were jointly honored by Goodwill Industries of Southeastern Wisconsin as their 2015 Power Partner. This week, the award was announced in a Goodwill Industries ad in the Chicago Tribune and the Milwaukee Business Journal.
Heather Ohlinger and Gloria Grampo, part of Creation's People & Culture (HR) team and based out of Milwaukee and Chicago respectively, are involved with the Goodwill program on a regular basis.  I had the chance to talk to them about what this means to Creation.
"We are so proud to receive this prestigious award and to be associated with an organization like Goodwill," said Heather, who is Creation's People & Culture Leader – U.S. "Focus on relationships and our communities is core to Creation. Being able to partner with Goodwill Industries of Southeastern Wisconsin has enabled us to further our community initiatives and connect with some pretty incredible people."
The award recognizes companies in the Midwestern United States that demonstrate the highest level of corporate social responsibility, and commitment to the Goodwill mission by providing substantial, ongoing work opportunities for people with disabilities and disadvantages.  Past recipients of the award include the Milwaukee Public Schools, Cree Inc., MillerCoors, and Northwestern Mutual, so we're in some great company.
In 2015, Creation used TalentBridge, a Goodwill Industries company that helped us recruit and hire. Through the service, Creation was able to add new people to the team who bring the right skills and enthusiasm to our Milwaukee and Chicago business units.
"We have seen so many people from the Goodwill program excel and continue to learn and contribute daily." said Gloria, Creation's People & Culture Leader in Chicago. "Creating jobs and providing training for everybody has been our greatest investment."
Here is the advertisement