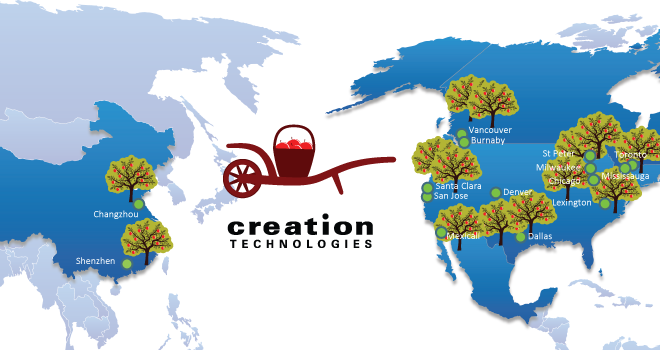 Familiarity breeds contempt. In the case of vocabulary, this means we might use words freely and regularly without respecting them, or examining or revisiting their underlying meaning.
(Of course, if you looked up the definition of every word you use on a regular basis, you wouldn't have much time to write or talk).
I find it useful, especially when I'm writing or speaking about a topic, to try and take a "fresh look" at a word to see if there are any insights to be gained.
As I prepared to blog about Creation's Core Values, the word "core" jumped out at me. Why do we call them "Core" Values?
So I went to first place most of us go when we want to find an answer…Google, of course! (Quick trivia quiz – how many of you remember "Ready Reference"?)
Here's the first definition that met my eye:
Core: (noun) The tough central part of various fruits, containing the seeds.
Obvious, yet so illuminating.
An apple probably came to mind for many of us when we thought of this definition of "core". I don't know about you but I've eaten my share of apples and thrown away the cores when finished.
Wait a minute! That can't be it. "Core" Values aren't meant to be thrown away.
Are they??
Who wants to be Johnny Appleseed?
I'm quite sure many of us were read or told the story of Johnny when we were still too young to peel our own apples.
Though the real Johnny (Appleseed) Chapman was actually a pioneering nurseryman, the story most of us know is of Mr. Appleseed traveling the world eating apples and planting the cores.
As the cores naturally degraded, the seeds inside were released from "captivity" and took root in the soil. Over the years, nature took its course and we ended up with apple orchards scattered throughout Creation (pun intended!).
Is there a moral to this story (or at least an end)?
Glad you asked.
Consider this… What would have happened to the apple seeds if there had been no core?
That's right! Johnny would have swallowed them.
And then what?
Well if Johnny had lived in the age of indoor plumbing, the seeds would have ended up at the sewage treatment facility. What a tragic ending for the apple trees and orchards! Talk about things going down the toilet! 
I digress.
All this talk about apples is making me hungry…
Core Values: A Foundation for Growth
I think we're all hungry – for attention, recognition, guidance, partnership, learning, growth, making a difference, and winning, to name a few examples.
The founders of Creation Technologies, Geoff "Applereed", Dave "Pettiseed", Paul "Appleclark" and Barry "Henderseed" understood this hunger.
Like many strong business leaders, they knew that in order for a company to satisfy these needs for its people, it would have to grow into a tree, and then eventually an orchard.
So they drafted a list of values that they thought would preserve and guide Creation through good and bad times.
Then they debated, re-drafted, consulted and debated some more.
And then . . . Creation's Core Values were born!
Boldness, Entrepreneurship, Integrity, Openness, Preparedness, and Respect have been at the "core" of Creation's success ever since. Every time we honor and live these values we plant seeds for the next trees.
Think of that the next time you eat an apple!
"Of cores" I'd like to hear from you!
Do you have personal Core Values? Family Core Values? What are they? How do you "connect to them" and live them? When is the last time you reflected on them? Is your "orchard" bearing fruit? What kind?