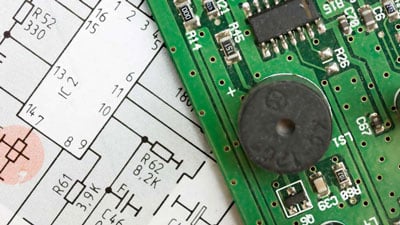 So you've finally decided to explore using an electronic design and manufacturing services partner to develop and build your product.
There are many reasons why this makes sense, but obviously, your product design will benefit from a manufacturing perspective during the design process.
1.  TECHNICAL EXPERTISE AND EXPERIENCE
Certainly the electronic design & manufacturing firm should have the requisite technical design and manufacturing experience to develop and build your product.
Although engineering discipline expertise such as electrical, mechanical, or software is important, it is not sufficient.
Relevant industry experience is vital, particularly for those products that require specific domain knowledge such as defense, aerospace, communications, or medical. Many of these products may have to meet stringent performance standards in harsh environments or they may have onerous regulatory or critical safety requirements.
Depending on your product's complexity, the development process may require specialized instrumentation, software, simulation tools, or test and measurement equipment; the electronics design and manufacturing provider's personnel should have the necessary experience. If not, you will be paying them to learn which is neither ideal nor cost-effective.
Some products may require dedicated facilities such as clean rooms for optical and medical devices or anechoic chambers for sophisticated RF systems. While it may be beneficial if the electronics design & manufacturing company has these facilities in-house, you may also be paying more to cover the additional overhead for these facilities instead of paying one-time fees at a local test lab.
If your product will have complex assemblies like those in electro-mechanical or robotic products, the electronic design and manufacturing firm's assembly and test experience is essential to help you avoid quality issues, inflated costs, and unanticipated schedule delays during the introduction to the manufacturing process.
2.  MANUFACTURING MINDSET
Feedback during the design phase from the manufacturing team members in sourcing, supply chain, and test engineering reduces the risk of unanticipated issues and increases the likelihood of a seamless design transfer to manufacturing.
SOURCING & SUPPLY CHAIN
Because the BOM ("Bill-of-Material") cost is usually a significant portion of the total product cost, the electronic design and manufacturing provider's capabilities to effectively reduce these costs should be an important selection criterion.
Since electronic design & manufacturing companies purchase significant quantities of components and material from their suppliers daily, they have the flexibility to aggregate orders from all of their customers to obtain volume discounts and preferred pricing.
Furthermore, large electronics design and manufacturing firms have access to substantial financial credit facilities that enable them to purchase bulk quantities of parts and materials at best possible terms.
The firm's design team should leverage this sourcing power to select optimal components for your product design based not only on cost, but also based on availability, lifecycle, and lead times.
TEST CONSIDERATIONS
Often product design teams do not develop production test plans until after the product design is already completed. However, a savvy electronics design and manufacturing provider will ensure that a comprehensive test strategy is developed concurrently with the product design. This approach results in a cost-effective test process with the best possible test coverage which greatly reduces the risk of uncovering issues during test process validation before the product is introduced to manufacturing.
3.  3RD PARTY SUPPLIERS
If the electronics design & manufacturing firm will be using 3rd party resources to design your product such as on-site contractors, remote developers, or external suppliers, there are several things to consider.
First, you should ensure that electronic design and manufacturing partner has substantially equivalent confidentiality agreements with its suppliers to protect your information.
Second, the more suppliers that your electronic design & manufacturing partner uses, the greater the risk of miscommunication among your partner, its suppliers, and you.
Third, assuming that the electronics design and manufacturing company selects its own suppliers, it should be solely responsible for their performance. This includes managing them, ensuring the quality of their work, and paying them. And, you should never be involved in any disputes between the company and its suppliers.
Ideally, choose an electronics design & manufacturing partner that can develop your product with the fewest 3rd party resources.
4.  LOCATION, LOCATION, LOCATION
Even though it is much easier today than in the past to do business internationally as well as virtually, the location of the electronic design and manufacturing firm is still an important consideration.
The smaller the geographic range you're willing to consider, the fewer choices there will be. However, the further away from the electronic design and manufacturing company is from you, the greater the opportunity for potential problems to arise.
WHAT TIME IS IT OVER THERE?
It is unlikely that you will have any communication issues working with a local supplier since you are typically working the same business hours.
Even a couple of time zones difference is usually not a problem.
But as the distance to the electronics design and manufacturing provider increases, the window for daily communication narrows. For example, a provider that is located in a time zone that is 5 or 6 hours ahead or one that is halfway around the world will likely require you to attend early morning or late evening calls.
This situation hinders timely communication between teams that will inevitably contribute to a longer than expected development cycle since issues can't be discussed until the end of one team's day and the beginning of the other team's day.
TRAVEL
Ideally, it would be great to have a local electronic design and manufacturing firm that was only a short car ride away. But, in most cases, this would greatly limit your options.
It's worthwhile to estimate the anticipated travel costs in advance if you believe that you will need to make many trips to the electronic design and manufacturing company's location during the product design and manufacturing phase.
If you choose a domestic electronic design & manufacturing company, your travel costs are limited to airfare, ground transportation, meals, and hotels. It's fairly straightforward to control these costs using online booking services even when booked on relatively short notice.
However, if you choose a foreign electronics design and manufacturing provider, travel costs will likely be higher than for domestic travel. Additionally, intercontinental travel will exponentially increase your travel costs as well as the time investment required per trip.
Furthermore, you and your team members will need to have passports and possibly need to obtain visas. This situation can be further complicated if some members of your team are not citizens such as those with temporary visas, work permits, or permanent resident alien cards.
A final consideration is that unless the electronics design & manufacturing firm is local, it will likely to bill you for travel costs for its product design team members to travel to your location, especially if it requires them to stay overnight.
SHIPPING
While domestic shipping is relatively cost efficient if you can avoid overnight shipping, the cost of international shipping can vary widely based on the destinations, weight, and class of service.
If the package's size and weight is relatively small, international air shipping can be a reasonable option. But, if the package's size and weight is substantial, air freight can be prohibitively expensive. While ground or boat shipment will be more cost effective, you will have to plan for longer shipping times.
It is worth noting that incorrectly filled out customs forms may cause delays and unanticipated tariffs or duties can also substantially increase the effective international shipping costs.
Always ensure that the electronic design and manufacturing provider has experience managing international shipping to your location. Otherwise, you risk delays and unplanned costs.
LEGAL CONSIDERATIONS
If the electronic design & manufacturing company is organized in a foreign country, you may not have the same legal protections as you would domestically for contracts, warranties, liability, or intellectually property.
Even if the electronics design and manufacturing firm has a domestic subsidiary you may still be at risk. If the contractual liability resides with the domestic entity, you may have limited legal recourse when an issue arises if the domestic subsidiary doesn't have the necessary assets or the appropriate and adequate insurance coverage to cover it.
Also, beware of a domestic electronics design & manufacturing provider who offers a "partnership" with an international supplier. These relationships are almost always just informal business agreements to cooperate without any mutual contractual obligations. So when business goes badly, neither party will take responsibility for the problems leaving you to sort them out for yourself.
The best advice if you're considering an international electronic design and manufacturing company is to consult with a qualified attorney who has the necessary background and experience in international trade and intellectual property protection.
5.  COMPANY STABILITY
Potential customers often ask how long an electronic design & manufacturing firm has been in business. But, in the current business environment, longevity can no longer be a barometer for company stability.
FINANCIAL STRENGTH
Although often overlooked by potential customers, an electronics design and manufacturing provider's financial condition is a critical factor to consider before committing your business.
If your electronics design & manufacturing partner is not financially strong, the negative impacts can be subtle such as shipping delays due to outstanding past due invoices from a key supplier, credit constraints based on banking covenants, or key personnel leaving, voluntarily or involuntarily, because of payroll cash flow issues.
You can be assured that a fiscally disciplined electronic design and manufacturing company will do some level of financial qualification on you as a new customer, especially if it will be offering you payment terms. You would be wise to do the same.
PERSONNEL TURNOVER
A key reason to select an electronic design & manufacturing firm is that you have access to a seasoned design team that has worked together for many years.
The stability of the design team is critical to the efficient development of your product. If there are many new people and the electronics design and manufacturing provider is not growing its business, this may be an indicator of a high rate of personnel turnover. However, if there are few new people, this may be a strong indication that you are working with a provider whose business is either stagnant or worse, contracting.
Neither extreme is an encouraging sign that your electronics design & manufacturing partner is stable. Search for a partner that has many long-term team members mixed with some new ones.
6.  INTELLECTUAL PROPERTY
Wouldn't it be great if you could find an electronic design and manufacturing company that had previously designed a similar product?
While at first, this might seem appealing, there are two concerns that should be addressed.
First, you risk one-track thinking by the electronic design & manufacturing firm's design team that will highly leverage a previous design to reduce the amount of development time and work. Although this approach may reduce development costs and time, it may result in your product design being only slightly adapted for your requirements instead of being optimized for them.
Second, depending on the agreement under which the previous product was developed, there may be IP ("Intellectual Property") entanglements including joint ownership, 3rd party licensing terms, and other business restrictions that could potentially limit your future product plans.  Additionally, there is a risk of unintentional infringement unless the firm has well-defined processes in place to ensure that people and documentation are segregated among the competitors' projects.
Lastly, you need an electronics design and manufacturing partner who is trustworthy, who will honor confidentially agreements, and who will not share your product design details with any 3rd parties.
FINAL THOUGHTS
While the list of considerations stated above is not exhaustive, it will help you evaluate potential electronics design & manufacturing companies based not only on their stated capabilities but also based on key attributes that could impact their ability to successfully design and build your product.
Always remember that working with a good electronic design and manufacturing partner should free up your time and resources to allow you focus on core business processes to grow your business