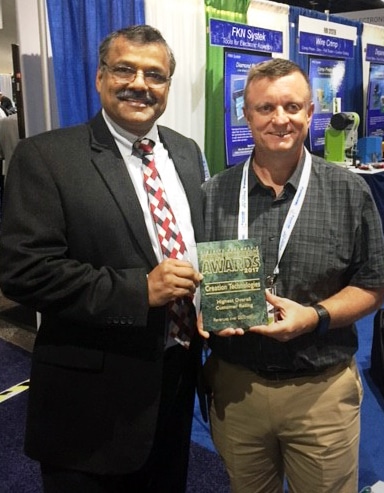 In sports they call it the "three-peat".
It is a term when a team wins three consecutive championships. The New York Yankees, Chicago Bulls and Los Angeles Lakers are some of the elite teams that have accomplished this feat. Currently were watching to see if Team Canada can pull off their third consecutive gold medal at the world hockey championships.
Recently, Creation Technologies won the 'Highest Overall Customer Rating' in Circuits Assembly's Service Excellence Awards for the third year in a row!
This award is based solely on feedback directly from OEM customers to electronics industry analyst, Circuits Assembly, and is an incredible achievement.
Creation ranks first overall amongst all EMS providers in the $500M+ category across all 5 categories of:
Responsiveness
Value for Price
Dependability
Quality
Technology
And while we are far from being compared to a sports dynasty, it demonstrates that we are achieving what we strive every day to deliver: consistent service to our customers.
Consistency is one of the key reasons why we have been successful for over 25 years. Our customers know our value offering and recognize that we put their needs first.
Being dependable is an art that comes with experience. These are some of the ways that we have been able to maintain consistency with our partners.
Our People
I get to be part of the best team in the world.
I am certain that a lot of CEOs say this, but I truly mean it. Creation is the most customer-focused company I have ever been a part of.
We have over 3,000 talented people, who have expertise, drive and heart. Every day in every business unit, they work together to solve problems, overcome challenges, and get things done.
This is a trait that cannot be taught. We choose people who have that innate desire to serve our customers and embrace our company's core values.
Our Responsiveness
The hallmark of our customer service model is our ability to react.
The needs of our customers have always dictated how our business operates. With our various experts and multiple years of experience, we are able to take a customer's problem and quickly find an efficient and effective solution.
One of the main differentiators we have over our competition is our customer-focused team (CFT) model. For every customer, we have a dedicated team that ensures projects are completed on time and at the highest quality. When customers have questions, we make it a priority to find them answers in a timely manner.
Our Quality
At the end of the day, you won't last very long with your customers or this industry for that matter if you don't consistently build quality products.
To optimize performance and eliminate product failures, we leverage our engineering expertise, invest in best-in-class machines, and design a cost-effective test stand solution.
Delivering quality products is also achieved through being proactive. Our team identifies software or hardware issues early on in the process, so that products work properly in the field.
Winning our third Service Excellence Award in a row is proof of our Continuous Improvement efforts, and the amazing collaboration between so many people – our Creation team, our customers' teams, and our suppliers' teams – to deliver "service excellence" to our customers that clearly differentiates Creation in the EMS industry.
So cheers to another great year as we attempt to complete a "four peat".