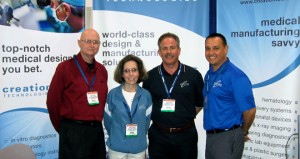 Medical devices galore! Product launches, new technologies, international customers, diverse exhibitors, Innovation Briefs, conferences, networking and quality business meetings were all under one roof at MD&M West 2012 at the Anaheim Convention Center earlier this year.
This was my first year at an MD&M (Medical Design & Manufacturing) tradeshow and I didn't know what to expect. I was excited to meet up with people in the Medical industry and share Creation Technologies' diverse manufacturing and design capabilities (especially with our recent acquisition and addition of our Design Services team), but I was just as anxious to check out all of the other exhibitors.
With all of UBM Canon's sister shows for packaging, automation, design, plastics, sensors, electronics, aerospace and sustainability, I couldn't wait to see what was in store for me and for all the other show-goers. I wasn't disappointed. The atmosphere was upbeat and exciting with so much to see that I will have to go back! Here are some of the highlights….
Process Efficiency & Quality Controls
My first stop was FFD, Inc. a company whose Sequence Enterprise Software is unique for writing, managing, deploying and validating shop-floor work instructions, a process that's very important in our high-tech electronics industry. Medical and other device manufacturers are using the tool to keep up with all the manufacturing routines and manage strict quality requirements.
Over the years I've heard both my husband and Creation's engineers grumble at how writing operational instructions in a Word document can be so cumbersome, and FFD's software seems to solve some of the typical challenges:
Completed work instructions can be viewed online or printed.
If a manufacturing step needs to be added or removed, the software can handle the change by automatically updating the instructions.
I received my CD in the mail last week but FFD offers a free version downloadable from their website: http://www.sequencesoftware.com/lockstepfree.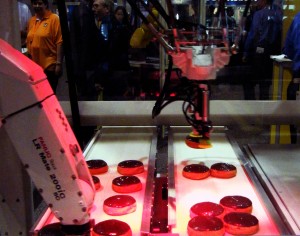 Innovation
Then there was the Assembly/Automation Equipment, Systems, and Robotics.
Today's cutting-edge pick and place machines, transfer robots and conveyor systems are unbelievably fast and accurate, meaning improved processing times and higher throughput. For Creation and our customers, time to market is always key and so seeing significant advances in this space is always very exciting.
I stood in awe of a particular robot produced by FANUC Robotics specifically made for food transfer. At MD&M the robot picked up chocolate covered donuts and moved them from one conveyor to another at a rate of 220 picks per minute…without even disturbing the delicious chocolate glaze! That's a lot of donuts.
Check out the FANUC robot in action for yourself!
http://www.youtu.be/kMJgtmUKmN8?rel=0
Social Media and Strategic Marketing
It's always great to meet up with people in your industry to benchmark and share ideas. I had some very interesting conversations at this year's MD&M with Medical device manufacturers, analysts, Creation's customers, competitors and partners alike.
The buzz on the show floor as well as the Innovations Briefs presentations confirm that even the Medical market is opening up to the idea of new communications tools like social media because, let's face it, it's here to stay. I read an article by Tricia Rodewald on Medical Device + Diagnostic Industry (MDDI) that sums this idea up really well. To quote a few of her thoughts:
"Most companies understand the importance of strategic marketing. However, the medical technology industry's cautiousness to protect intellectual property and avoid legal ramifications can often restrict effective, innovative marketing efforts….To stay relevant—now, and in the future—medical technology companies need to reevaluate how they communicate their expertise and develop online and offline strategies for enhancing strategic partnerships."
I think this is true not only of the Medical industry, but of the entire Electronics Manufacturing industry. The better we get at communicating the value we each bring to the table, the better we get at sharing information to overcome industry challenges, the more opportunity and growth there will be.
Now that I am back and have had a chance to reflect on the 2012 MD&M I would say it was, in a word, educational. It was a great chance to check the pulse of the medical industry.
What did you think? Did you go? Are you planning to attend any of the other MD&M shows in 2012 or 2013?