If you read my blog post back in July, you know that Creation Technologies and Creation Design Services were this year's Innovation Station Sponsors at LSA2014, LifeScience Alley's Health Technology Leadership Conference at the Minneapolis Convention Center.
It was amazing to meet life sciences innovators from across the globe as everyone joined LSA in celebrating 30 years of achievement in Minnesota's medical community.
Personally, I was very impressed by Mayo Clinic Ventures. The organization systematically invests in new technology and start-ups to bring solutions to niche markets. This mindset will continue to be especially important as the medical industry focuses on the patient experience, and "outliers" become a thing of the past.
Check out the LSA2014 Conference Recap to see some of the insights shared by The Mayo Clinic, Medtronic, SharedClarity and many others.
The Power of Creativity in Innovation
In a rapidly changing industry like Healthcare, innovation is a must.
"To stimulate creativity, one must develop the childlike inclination for play."
~Albert Einstein
We need to regain the creativity of our childhood to come up with revolutionary ideas, and we wanted Creation's Innovation Station to help people tap into their hidden potential.
We also wanted everyone to have a lot of fun.
Naturally, we thought of LEGO!
Simulating the product commercialization process, we had a lot of fun helping guests design, build and program their own remote-controlled robots using LEGO Mindstorms.
We built some robots of our own, too, and definitely enjoyed chasing people around with them!
(Unfortunately Katie did less chasing than the rest of us…)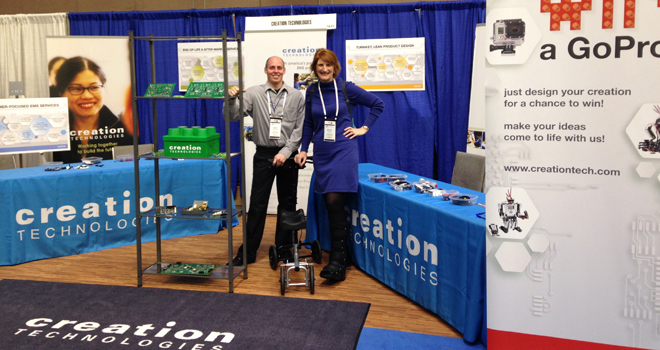 Here's a quick recap of our own LSA experience:
[youtube http://www.youtube.com/watch?v=V1AKpDo48yc&w=560&h=315]
Innovation and Product Development
I recently came across an article with a photo of an awesome and authentic note to parents included in LEGO Instructions from 1974. As of this blog post, this tweet by @henrywarren has been retweeted over 8,000 times!
Lego definitely had it nailed.
Lego had it nailed in the 70's pic.twitter.com/jw2pD3Obiy

— henrywarren (@henrywarren) November 22, 2014
Unlike LEGO, however, product development doesn't come with a set of instructions.
It involves a great deal of creative thinking, expertise, and an innovator's mindset to overcome common product development pitfalls.
Yet, like LEGO Mindstorms, there are simple design practices that you can incorporate to achieve manufacturing and commercial success.
Anyone can find fresh and innovative solutions with the right approach, tools, and partners to help along the way.
Are you interested in learning more about how Creation and our Medical Device Design and Manufacturing services can help you innovate and succeed?
Give me a call at 262.501.6686 or send me an email any time.
P.S. For even the most experienced designers, Product Development can be a real challenge. Nate and I presented 'DFX and You: Making the Transition from Design to Manufacturing' last week at Hamline University in Minneapolis as part of LSA's educational workshops. Stay tuned for an upcoming post!