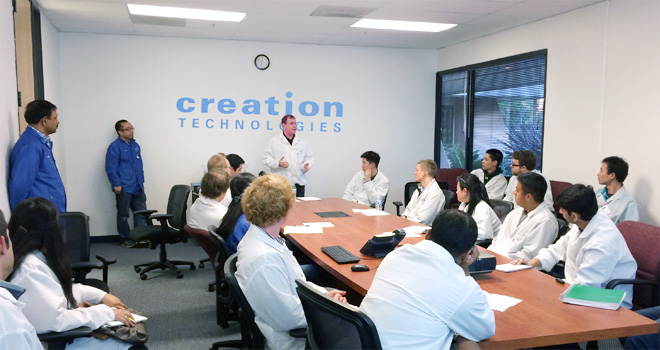 Knowledge is power, they say.
And education leads to knowledge.
So it only made perfect sense to the SMTA and Ela Pannerselvam, one of our Process Engineers here in Creation – San Jose, to help provide education to San Jose State University (SJSU) students about the great things going on in the Electronics Manufacturing Services (EMS) industry.
EMS Industry Advocacy and Collaboration
For those not familiar with the organization, the Surface Mount Technology Association (SMTA) is an international network of professionals who "build skills, share practical experience and develop solutions in electronic assembly technologies, including microsystems, emerging technologies, and related business operations".
Ela has been an SMTA member for over 7 years and was an officer for the Silicon Valley Chapter, but he first joined when he was a student.
Like most students in college, Ela explored his options to find out what interested him. He found support, friendship and like-minded people in the SMTA, and the organization enabled him to reach out to professionals that are passionate about the EMS industry.
Ela considers it crucial to his career success that he grasped the early importance of getting to know the EMS industry and networking. Today, as a successful professional with knowledge to share, Ela's able to help the SMTA return the favor to new people to the industry.
When the Silicon Valley SMTA Chapter proposed an onsite session to expose the future generation of engineers to the fairly unknown EMS industry in the college community, Ela volunteered Creation Technologies – San Jose as a great place to host an exciting joint event.
A Peek inside a Successful Silicon Valley EMS Provider
The SMTA-Creation event was held on a lovely Wednesday night in the Valley.
This wasn't the first time either of our Creation manufacturing facilities in Northern California has opened our doors for students, (we love our "Bring-Your-Kids-to-Work Days")! But this was the first time we'd opened our facility for College students.
Professor Winncy Du and her SJSU Robotics class joined us for a short introduction to learn the basics about the EMS industry and a little about Creation Technologies. A lot of the students had heard about the EMS industry, but they didn't possess much knowledge beyond a few facts and some theoretical concepts.
Following the intro came a tour of our manufacturing facility, and we were excited to show the theory in action to our visitors and give them a first-hand look at the EMS industry's strong presence in California.
During the tour of our production floor, the SJSU students were very enthusiastic and had many questions on a variety of topics such as solder applications, 5DX/AOI and validation/verification.
These were answered by our own group of dedicated SJSU engineering alumni—Khalid Mahmood, Shuo Cao and Steven Chun.
Following the tour, our San Jose General Manager, Eldon Regua, was on hand for a discussion session and some words of wisdom.
Was the event successful? I believe so!
We were able to open up the doors to these future leaders in our industry, both literally and figuratively, and learn from them what might drive new passion in the next decades.
We hope the SJSU Robotics class will consider Creation Technologies and the EMS industry in general as exciting career paths when they graduate.
With such a successful first event, we'd love to host next year's SJSU class, too!
Similarly, we want to reach out to other colleges and universities out there in the Bay Area. Are there other institutions who'd like their students to get some hands-on knowledge and excitement from the EMS sector? Let me know!
Students are part of the next generation that shapes the fabric of our industry. As business leaders, it's our responsibility to look for ways to build and cultivate our relationship with academia.
What are other ways we can connect to the student community?