I have yet to meet an engineer who enjoys seeing costs pile up during the design and development process.
And unexpected costs are definitely unwelcome visitors in the drive for product commercialization.
If you'd like some new, actionable ideas for getting a new product to market quickly and without those unexpected, expensive guests, here's a suggestion for you…
Attend 'How to Avoid Hidden Costs and Delays in the Product Design-to-Commercialization Cycle' next week at PCB West in Santa Clara.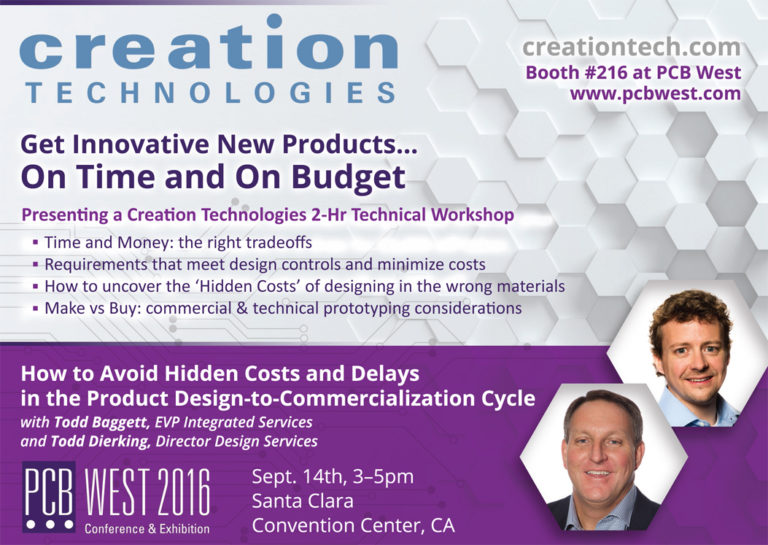 In this two-hour, technical workshop, Todd Dierking, Creation's Director of Design Services and Todd Baggett, Creation's EVP of Integrated Services, will share their engineering and component expertise to help you:
Get the right tradeoffs between Time and Money
Assess and define requirements to meet design controls, minimize costs, and still bring your creativity to the project
Simplify the prototyping process with some cost-effective technical techniques, as well as a checklist for commercial considerations that will help you make the best choice for each stage of prototyping
Uncover the 'hidden costs' of designing in the wrong materials
While you're there, drop by Booth #216 and meet a team from Creation–San Jose, our rapid prototyping/manufacturing facility that's about 10 minutes from the Santa Clara Convention Center.
Hope we'll see you there!