Conductors. Cables. Fully Integrated Harnessing.
FROM BUILDING BASIC CABLING SYSTEMS TO DEVELOPING COMPLEX CONNECTIVITY SOLUTIONS, CONNECT WITH CREATION TO ENSURE PRODUCT QUALITY AND RELIABILITY.
Creation now adds interconnect solutions to its rapidly expanding list of EMS, manufacturing and subassembly capabilities, supporting the life-saving and mission-critical products of our valued OEM customers. From optimizing efficiency and scalability with design for manufacturing engineering to sourcing wiring and cabling components from only site-validated suppliers, Creation delivers the flexibility and dependability you need to maximize your product's performance — solving challenges, minimizing risk and customizing interconnect solutions developed to meet your most stringent specifications.
Learn more about our interconnect solutions
Since the beginning, manufacturability has always been a central tenet of the value we deliver to our OEM customers. When they partner with Creation, they know we've explored and weighed every manufacturing option for ensuring efficiency, optimizing process, minimizing cost and maintaining quality at whatever scale of production. We now bring this extensive engineering expertise to Creation's comprehensive interconnect solutions offering, delivering tangible manufacturing advantages through…
Expert Multidisciplinary Teams
Preproduction Design Support
Extensive Product Knowledge
Through ISO 9001-certified, ITAR-registered and IPC-Class 2 and Class 3 accredited manufacturing and assembly facilities, along with rigorous inspection, analysis and testing every step of the way, Creation ensures the documented quality our OEMs demand, from simple conductors to complex cables and harnesses. This is why you partner with an EMS like Creation, to ensure…
Superior Quality Control
Design for Manufacturing Excellence
Fully Automated Functional Testing
Creation has the resources and capabilities you require in an interconnect solutions provider. These specialized vertical manufacturing services for high mix/mid volume applications include high-level assembly of wire and cable harnesses with connection to PCBA, expertise with commonly specified COTS materials to custom manufactured components and mold applications, and precision subassembly integration into metal-worked enclosures. Count on Creation to provide…
Optimized Global Supply Chain
Flexible Production Scaling
Versatility in Material Options
"Proactive Solutions for Your Customers"
"Creation has been very flexible for us, and the team is very willing to suggest new and different methods to meet our changing needs. They are extremely dedicated to quality, and they work with us to determine root causes of failure for providing key feedback and solutions to our customers in the field."
Senior Buyer
Aftermarket Division of Industrial Controls OEM
PCBA AND INTERCONNECT ALL FROM ONE COMPLETE EMS SOURCE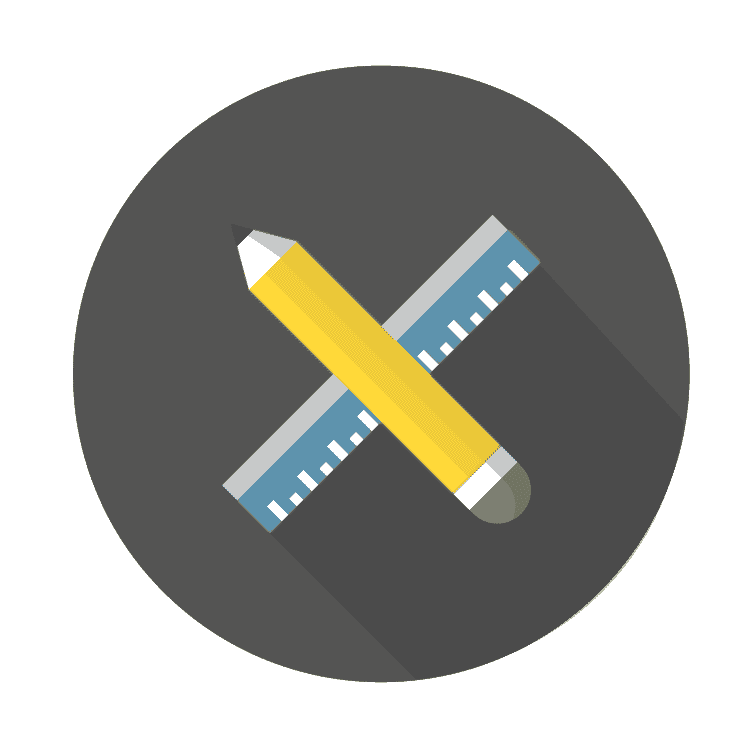 Design and Engineering Services
Optimize your design with our scalable design engagement services through…
Build to Print
Design Assistance
Full-Service Engineering Support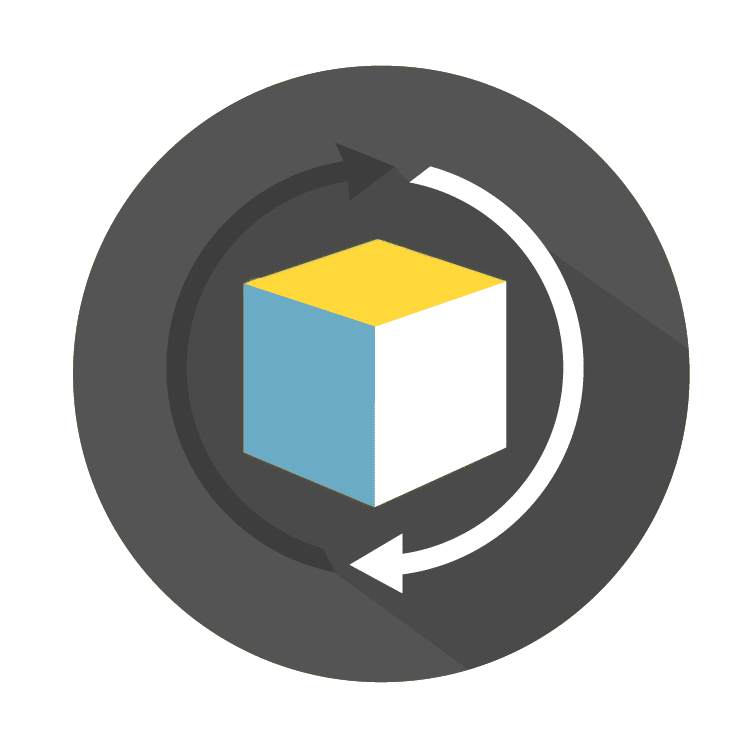 Diverse Connectivity Solutions
Seamlessly integrate custom-designed and fabricated interconnect solutions, including…
Complex Cable Assemblies
Full System Integration
Harness Builds in Range of Sizes
Electro-Mechanical Design and Assembly
Benefit from a full array of manufacturing and assembly operations, featuring…
Connectorization
Termination
Integration of PCBA and Machined Components
A COMPLETE CADRE OF INTERCONNECT SOLUTIONS CAPABILITIES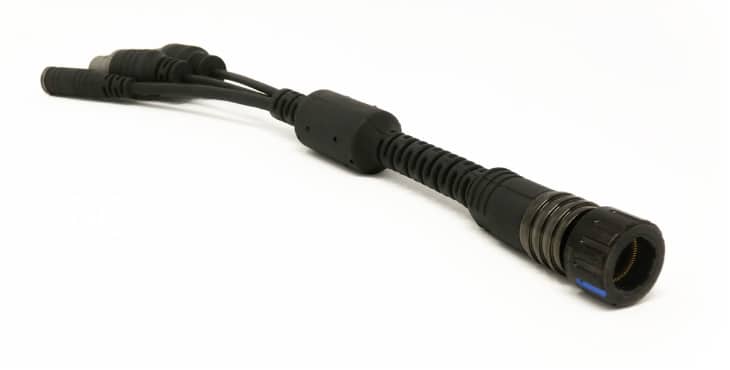 Custom-Engineered Cable Solutions — for meeting mission-critical performance requirements
Wire Prep: Automated & Semi-Automated Cutting, Stripping, Tinning, Twisting
Finishing: Soldering, Crimping, Custom Cable Termination, Thermoplastic Molding
Custom Overmolding: Modular or Custom Tooling, On-site Tooling Design and Manufacturing
Testing: In-process and Final Testing, Continuity, Hi-Pot, and Component Testing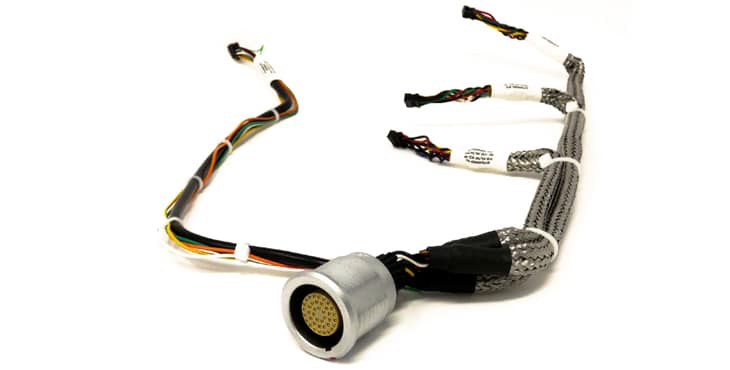 Broad Interconnect Capabilities — for manufacturing unique wire and cable harness solutions
Multiple Wire Types: PVC, TPE, Teflon & Coax
Shielding: Pre-woven EMI Braiding, Binder & Tape Application, Insulated Jacketing
Slip-On Protective Coatings: Nylon, PVC, Tinned Copper or Stainless Steel
Complex Internal Assemblies with Multiple Breakouts & Junction Points
Insulation Resistance, Custom Functional and Programming Stations
Testing: Automated Final testing for Continuity and Hi-Pot, 800+ Test Points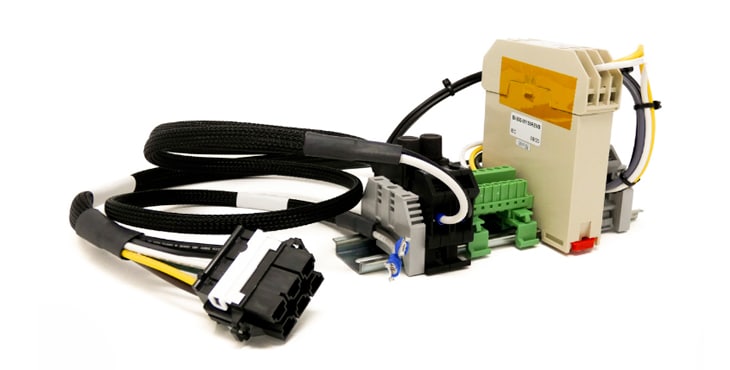 Complete Electro-Mechanical Assembly & Box-Build
Vertical Manufacturing and Assembly — for full system integration, including PCBA, metals and interconnect solutions for electronic mechanical and electro-mechanical assemblies
Value-Add Terminations and Molding of COTS Components
Reliability Testing and Custom Software/ Hardware System Configuration
Logistics Management and Direct Order Fulfillment to the End Customer
In-House-Certified and Third-Party Source Inspectors Onsite to Ensure High-Quality and Timely Delivery