How Does Your Product Development Cycle Stack Up?
Did you know that Deere & Company reduced product development time for construction equipment by 60%, and IBM reduced direct costs in system assembly by 50%? And how did Fuji Xerox's FX-3500 copier immediately capture 60% of the relevant domestic market?
All are historical reference points to be sure, and yielded varying short- and long-term ROI for each company.
But there's no question that the ROI was significant.
So what about in 2017?  Today, how are some of the most successful companies in the world achieving these measurable differences in development and commercialization times, product quality, and ultimate customer satisfaction?
Same answer as in 2016, 2015, 2014…
By breaking down walls with an integrated view of product commercialization (as well as everything that comes afterward), including leveraging proven methodologies like concurrent engineering.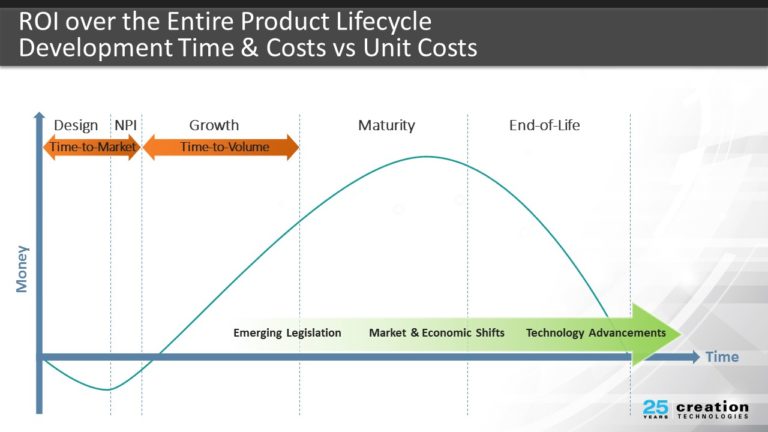 Concurrent Engineering
Concurrent Engineering is not a new (or disruptive) idea.
But it takes a design-thinking and strategic mindset, and it requires exceptional program management and a lot of communication.
That may sound hard, and it is!
A common definition of concurrent engineering is that it's a team-driven approach in which design engineering, manufacturing, product and test engineering and other teams are integrated and aligned on the same critical path to reduce the time required to bring a new product to market.
Building on the Toyota Production System and subsequent application of concurrent engineering, the automotive industry adopted concurrent engineering models in the early 1990s. Many electronics and pharmaceutical companies followed suit and adapted the approach for their own needs in the early 2000s.
However, the barriers for collaboration across disciplines, teams and partners stubbornly persist today, particularly in organizations where skills and responsibilities remain in siloes and resources are allocated according to each team's budget and KPIs.
Today we operate in an environment where everyone is connected, online, and capable of taking action on that "great idea" 24/7.
To capitalize, the traditional linear and sequential system of product development – the 'over-the-wall' approach – must become a thing of the past for companies to succeed in 2017 and beyond.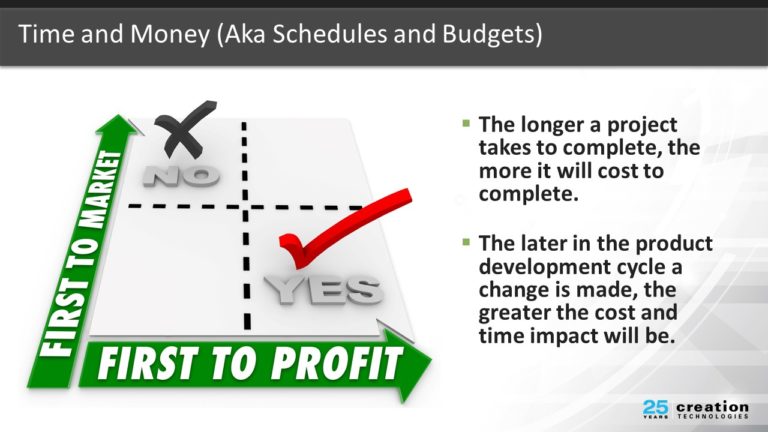 Your Product Development Ecosystem – Flexible or Fixed?
With an integrated, concurrent engineering approach, everyone from design, engineering, purchasing, manufacturing, marketing, and finance is a stakeholder from product conception to marketplace.
More importantly, with an integrated approach, all of these stakeholders must be aligned and focused on the same timeline and outcome.
That may sound complex, and it is!
But the results are impressive:
Fewer design changes;
Fewer delays;
A higher quality and more innovative customer-centric product; and
A product (and brand) with staying power.
R&D and design engineers, for example, are often two steps removed from customer interaction.  With an integrated and flexible development model, they can gain insight by collaborating with field and technical salespeople who have direct contact with customers.  Just like 'going to the gemba' (to carry through with the Lean analogy), these are the folks that have the best information about what really matters in their marketplace for their solutions.
A 2009 survey found that implementing a concurrent engineering model positively affects development time, quality, and productivity.
Specifically:
30-70% Less Development Time
60-90% Fewer Engineering Changes
20-90% Faster Time to Market
200-600% Improvement in Quality
20-110% Increased Productivity in Management/Admin Functions
20-120 % Higher Return on Capital Investment
Not bad.
My Layman's Take on the Role (and Power) of Concurrent Engineering and Integrated Teams
Fast-changing end-customer demand and needs, more varied and technically complex products, and more stringent regulatory and quality requirements can all easily be barriers to rapid product development and commercialization.
But in parallel (or, concurrently!), highly engaged teams and advanced, online collaboration tools are accelerating the development process, taking advantage of this 24/7 connected ecosystem.
Glass half full or glass half empty?
Just imagine what's possible with expert, multi-disciplined teams working together.  Especially when you can annex the power of exceptional partners to help you fill the gaps.
At the end of the day, in my role, I (get to) see concurrent engineering as a technical methodology that's analogous to what all of us folks working in tech really want…
…a highly collaborative, systems-driven way for us to work together (be it with our in-house teams or outsourcing partners) to get things done that benefit our companies and benefit our customers.
I believe that integrated teams and concurrent engineering are a fast-forward button for time-to-market.