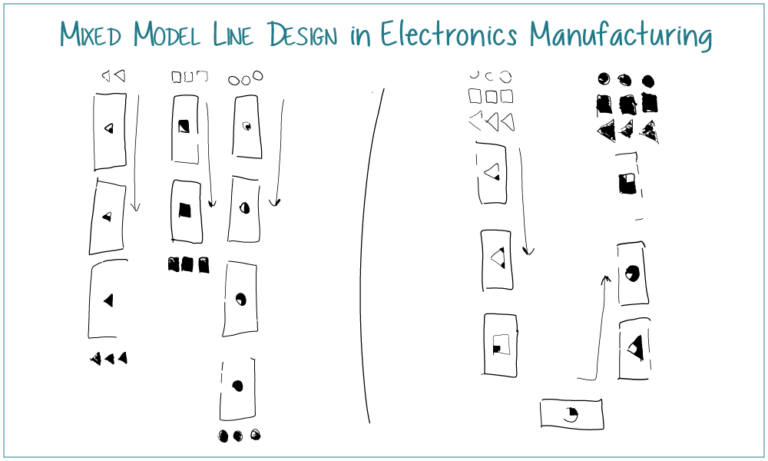 Manufacturing facility design is like puzzle-solving, where managing space and operational efficiencies can pose a challenge – especially during periods of growth.
Do we carve out more manufacturing space within our existing facility? Do we acquire more manufacturing space? Or do we continue to find new ways to optimize existing product flow?
At Creation, the manufacturing model as we know it is largely based on triggers to build right-sized batches that are built on dedicated and segregated lines. We often get requests from our Production Team Leaders for more floor space and workbenches when we partner with a new customer or launch additional programs. At first glance, this expansion can seem necessary to avoid mixing products on the same workstations.
So why is it that auto manufacturers can build a seemingly infinite number of different products all on the same production line, sometimes concurrently, and ramp up and down (within reason) without having to expand?
In my role as Continuous Improvement Coach in our Vancouver manufacturing facility, I'm continually looking for solutions that make our production processes flexible and scalable while factoring in existing space constraints.
Luckily, this is also a hot manufacturing industry topic and there are many good ideas being shared, like at the Mixed Model Line Design workshop I and some other process minded team members attended, hosted by Toyota and facilitated by the Leonardo Group.
At a high level, Mixed Model Line Design is a Lean manufacturing methodology to optimizing the value streams of multiple, similar products with mostly the same workstations and equipment, at the highest possible productivity level, without compromising quality.
The specific focus of the Toyota-Leonardo Group workshop was optimizing product flow to scale with customer demand, accelerating the production process with more predictability.
Here are a few takeaways that resonated with us as transferable to Creation's manufacturing environment of complex electronic devices and programs.
Design Thinking: Get Granular
In Creation's Lean Manufacturing environment, we are always thorough and intentional in designing our work cells and manufacturing lines to achieve maximum efficiency.
This process involves Product, Process, Test and Quality Engineering, our Production Team, and often our customers. We break down our processes, balance all work elements, and design flow and workstations for optimal floor space usage. But we can get even more granular.
For example, our supply chain team procures materials from our suppliers based on a Plan for Every Part (PFEP) strategy. Once materials reach Creation, we've optimized the process by which they are delivered and replenished to our manufacturing cells at line-side stock.  We can take it a step even further to optimize the process by which those materials are delivered to each operator in the cell at their point of use.
Similarly, we can design in more specifics around how product moves along the production line. Today we consider quality and inspection criteria, ergonomics and sequence, but we could also specify how many pieces at a time, or whether they're on a tray or in a box at the point of transfer.
We can also design flow based on a multitude of factors that affect a line's ability to meet takt time (the maximum amount of time in which a product needs to be produced to meet the pace of customer demand).
I think you get the picture.
Lean Thinking in Action
Our test case Production Team was apprehensive about trying something new, but after trialing Mixed Model Line Design in one cell with one product family to assess its effectiveness, they are excited about the promising results seen so far.
The team has increased capacity by 100% on the target product family. Increases have also been noted for other products, even before a focused effort to optimize.
Footprint has been reduced by 570 sq. feet or 10% of previously occupied space.
Who knows? All of our Production Team Leaders may soon be asking for Mixed Model Line Design in their own areas instead of more floor space and benches.
Stay tuned for a follow-up post on our progress and results.