One morning driving to work, out of nowhere I found myself thinking about how I would love to have a big belly.  A little strange right? But then I'm not referring to a big belly in the physical sense.
I am talking about the BigBelly Solar compactors that are popping up at universities, parks, resorts and business districts across the U.S. as companies and municipalities aim to cut costs and go green.
What's a BigBelly?
While walking down a Boston street, BigBelly founder Jim Poss observed a garbage truck in action – idling at a pick up point, blocking traffic, with smoke pouring out of its exhaust, while litter was still prevalent on the street.  Then he learned that garbage trucks consume more than 1 billion gallons of diesel fuel each year in the U.S. alone!
Poss was struck by the thought that there had to be a better way.  Drawing on this insight, experience in electric vehicle engineering and an enthusiasm for environmental solutions, Poss formed a company that designed the world's first solar-powered trash compactor.
The BigBelly solar garbage compactors use the power of the sun to compact trash deposited into the container.  Once the trash compactor is full, it sends a signal to a monitoring station alerting the Division of Waste Management to the need for trash pick-up.
Each BigBelly compactor holds five times the garbage of a normal trash can!
The BigBelly solar compactor has been engineered to be extremely energy efficient and operates with high reliability in the most difficult environmental climates.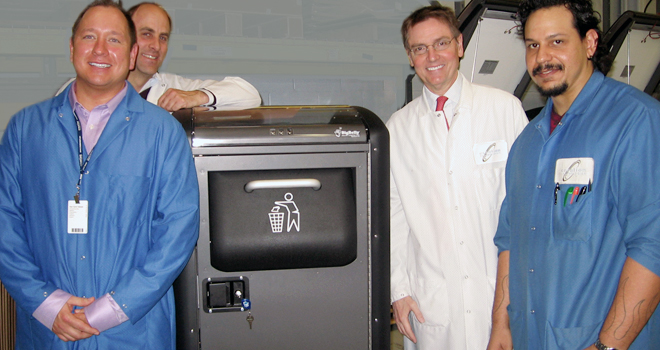 Big Belly & Creation Technologies: A Perfect Match
BigBelly Solar partnered with our team at Creation Technologies in 2010 to build the complete solar-powered trash compactor units.
We asked Chris Summersgill, VP Operations for BigBelly, what it was that tipped the scales in our favor. At the risk of sounding self-promotional, we're proud to share his response:
"We completed an extensive search for an electronics manufacturing services partner and Creation best fit our criteria.  Creation's Lexington team's disciplined approach to high quality, repeatable manufacturing was evident by the organization's dedication to LEAN manufacturing principles.

The opportunity to combine multiple functions, such as PCB assembly, box build, test capabilities and drop ship of individual orders under one roof was a huge plus.  Creation's sourcing capabilities and buying sophistication = cost down and high availability leverage for BigBelly Solar.

We feel very positive about our choice of Creation as a partner and look forward to taking advantage of more of the value that Creation brings to the relationship in the future."
We feel pretty positive, too, Chris!
What Can We Do?
Create Jobs. Run Government Efficiently. Build a Great American City.
These were the themes introduced by Lexington, KY Mayor Jim Gray during his State of the Merged Government Speech in January.   Those themes resonated with us. How could Creation help reach these goals?
BigBelly came to mind.  We believe in the BigBelly Solar waste & recycling system as a product,  but we also love what they are doing from both an economic and environmental perspective.
As Troy, our GM in Lexington put it, "Since the BigBelly stations are solar-powered, they don't need an external power source. They compact the trash, so Waste Management makes fewer trips to empty them. … trucks are out less, use less fuel and emissions are lowered.  The long-term benefits are substantial."
BigBelly has more than 12,000 compactors deployed worldwide.
This is a company making a significant dent in the wasteful consumption of fossil fuels!
Even better, the BigBelly products mean:
Savings of hundreds of thousands of gallons of fuel each year while freeing up thousands of man-hours for other tasks

Savings of millions of dollars in aggregate annual budget savings

Customers can close budget gaps and avoid layoffs

Customers can continue to provide a high quality of life to their citizens and visitors
And an idea was born.  Why not keep the city green and try to grow business by donating a BigBelly solar compactor to the City of Lexington?  We ran the idea by BigBelly, who was fully on board. Creation would donate the solar compactor, and BigBelly Solar would donate the ongoing service contract and training.
Today, our Lexington team is working with the Mayor's staff to determine the best location for their awesome new solar-powered trash compactor.  We will keep you posted!
Interested in creating a better environment for your city?    Need to create efficiencies and reduce cost?  Then you may want a BigBelly too.  What do you think?  Where would you use a solar-powered trash compactor?