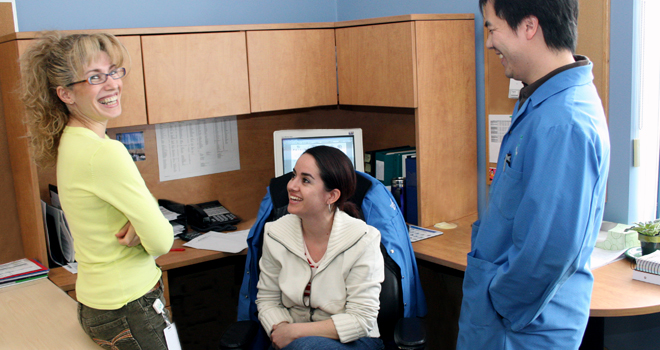 The other day I happened across a great post over at Design News. (If you're at all interested in Design Engineering, you should give the site a look).
"Why Did You Become an Engineer?", was the question Design News posed to their System & Product Design Engineering group on LinkedIn. The roundup post by Alexander Wolfe tells some of the group's stories, giving us a peek into the mind of the weird and wonderful specialist that is the Design Engineer.
Though I'm not a Design Engineer, I can certainly relate to the moments and people in my life that captivated and motivated me. It's also human nature to seek out social connection and to wonder "Why?", and so it's always interesting and inspiring to read the personal stories that people are willing to share.
I thought the "Why Did You Become…" idea was one worth spreading, and started asking people at Creation, "Why?" Luckily, we have great people and they were happy to share.
Here's our first story, from Perry Nader, the Supply Chain Leader in our Dallas business unit.
It will surprise you.
"In the late 70's I moved from Ottawa, Canada to San Francisco, California. An old friend and I had decided to open a small restaurant in San Francisco's financial district.

The restaurant was a cute little breakfast-and-lunch diner, called MARAZCEK'S after a fictional character in a book that my friend had read in his childhood.

We were both the cooks and also managed all the suppliers, inventory, registers, employees etc. The restaurant was located right in front of the big old Mamma Bell (AT&T) building, and at lunch time we practically had people lined up 3-deep along the sidewalk.

Life was good until the early 80s, when a court decision forced Mamma Bell to break into a bunch of little Baby Bells, and the big building with all of the 'lunch bunches' went poof!!

We filed bankruptcy and lost every penny we had.

I practically became homeless.

I was lucky to have another old friend who lent me a hand and took me into his house in a suburb of Los Angeles.

My friend attended a university that catered to government employees and aviation professionals, and I was able to get a part-time/on-call job at the university's cafeteria. I was hopeful that once I showed them my skills, part-time would turn into full-time and maybe I could even manage the place.

That year at the cafeteria, I met Janice. Janice was the Secretary, (yes, in those days that was the proper title), to Dean of Government Sponsored Educational and Training Programs. She and I became very good friends.

I often went to visit Janice in her office while she was on her break. One day, I started telling her the story of the restaurant and of my past. As I was talking, the door to the Dean's office opened and the Dean stepped out.

"May I see you in my office please?" he said, pointing. Of course I said yes.

The Dean told me that there was a government grant for re-training of government employees on Closed-Loop Manufacturing Resource Planning (MRP II). He took the time to explain it to me, referred me to the work of Joseph Orlicky and Oliver Wight, and invited me to meet with him again.

After a few more meetings he told me that based on my basic knowledge of procurement and inventory management, he thought that I could qualify for the training. Two months later I got the grant approval and training acceptance letter.

The program was 12 months, full-time, not only for MRP II but also some government-specific manufacturing process training. Our first project was setting up the entire planning process for a garage door opener.

We entered the BOM and routings in an ERP system, configured, planned, scheduled, managed inventory, sales orders, A/P, A/R, G/L… You name it, we did it. This was cutting-edge stuff.

Six months into training I received my advanced certification.

It's funny how life works.

Several years before coming to Creation, 30 plus years after starting my career in supply chain, I was working as Director of Supply Chain and Operations for one of the divisions of a company called Chamberlain….one of the largest manufacturers of residential garage door openers in the world."

How have you been inspired by the experiences of others?
What are some of the great ways you've seen these experiences change people?
And of course, why did you become an engineer, supply chain professional, teacher, historian…wherever your career led you?