I had an opportunity to catch up with Jessica Crawford, President of New York-based MedTech, heading into the week of MEDTECH 2015. Jessica and I discussed today's most significant opportunities and business challenges for bioscience and medical technology OEMs.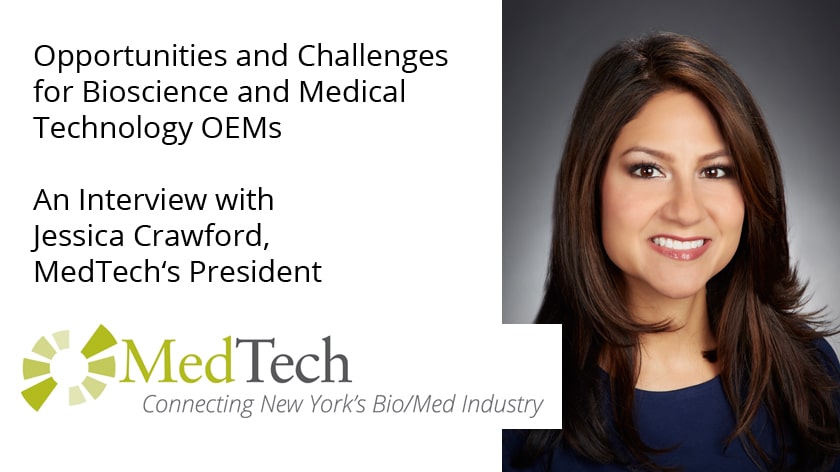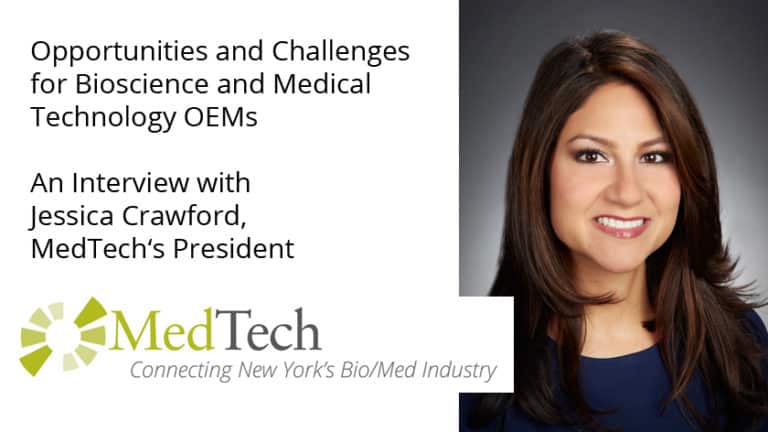 Janelle Urchenko: Tell us more about the origins of MedTech. I understand it grew from the idea of transforming Upstate New York into a knowledge-based economy.
Jessica Crawford: MedTech was founded in 2004 by four New York State bioscience and medical technology (Bio/Med) companies – Bristol-Myers Squibb, ConMed Corporation, Sensis Corporation (acquired by Saab in 2011), and Welch Allyn.
MedTech was formed at the urging of then New York Senator Hilary Clinton in response to an economic development plan recommending closer collaboration among medical products and services firms to help grow the region's knowledge-based economy. The idea was that by acting together we would have greater success, benefitting industry as well as the entire region with more knowledge-based jobs, which are higher paying with greater economic impact.
Our mission is really an economic development one – forming an epicenter of Bio/Med activity by developing the relationships, tools and programs that enable New York State companies to bring tomorrow's medical solutions to the healthcare marketplace.
MedTech provides a single voice for the Bio/Med industry and also encompasses the entire ecosystem – from innovators to suppliers and academic research to service providers – providing a vehicle for collaboration and the sharing of best practices.
JU: What's your vision for the evolution of this ecosystem, and how is it relevant in today's changing economic climate?
JC: This couldn't be more relevant than in today's dynamic industry landscape. In today's ever-evolving healthcare marketplace, identifying untapped potential is essential for success.
Partnerships emerge through investments, consolidation and public-private collaborations, bringing together payers, providers and patients to improve care and reduce costs.
At the heart of this convergence is creativity, building momentum for growth. Through purposeful collisions – industry and academia; entrepreneurs and business leaders; domestic and abroad – convergence drives progress through the development of new technology, product enhancements and radical innovation.
MedTech will be highlighting this and more at our annual conference, MEDTECH 2015 "Convergence: Building Momentum for Growth" on October 14-15 in Buffalo, NY.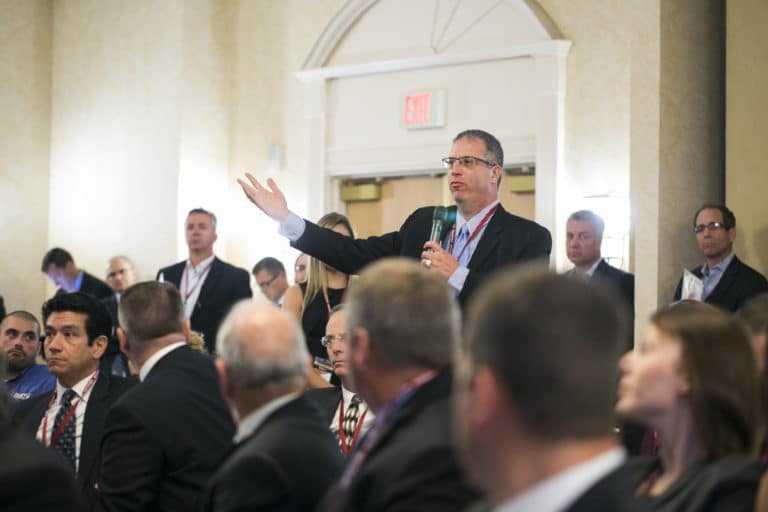 JU: We're certainly looking forward to some great discussion, and maybe even a little debate, at the conference!  Also to meeting new people from other MedTech member companies. What is it about New York that attracts medical and biotech businesses? And how are these companies leveraging the growing MedTech community to engage their customers in the area and beyond?
JC: New York is among the top tier of states in the size of its bioscience industry and the scale and reach of its bioscience research complex.
Here are some of what I think are very exciting stats:
State firms employ nearly 75,000 in the biosciences.
New York's academic institutions conducted $3.5 billion in bioscience academic research and development in 2012.
State institutions, both academic and non-academic, have received $1.9 billion in funding from the National Institutes of Health in 2013 alone.
New York inventors were issued nearly 6,400 patents from 2009 through 2013 in bioscience-related technologies.
In each of these key metrics of the scale and innovative nature of the biosciences, New York is among the top 10 states. (From Battelle/BIO State Bioscience Jobs, Investments and Innovation 2014)
MedTech connects New York State's Bio/Med industry through collaboration, education and advocacy. MEDTECH 2015 is a prime example. It draws more than 300 decision-makers from throughout the industry, and offers unmatched opportunities to strengthen and build new relationships with industry leaders and meet new partners, resources and customers. Our signature Collaboration & Growth Track also offers partnering opportunities with some of our industry's foremost companies, this year including Air Liquide Healthcare, AMRI, Johnson & Johnson and PARC – a Xerox Company.
We're also very excited that this year's conference is in Buffalo, NY. The energy and momentum surrounding the Bio/Med industry in Western New York is palpable and is a testament to the capital infusion by New York State and local industry into its downtown core.
In the last five years alone, Western New York has experienced a four percent growth in Bio/Med employment, yielding $5.6 billion in total economic impact.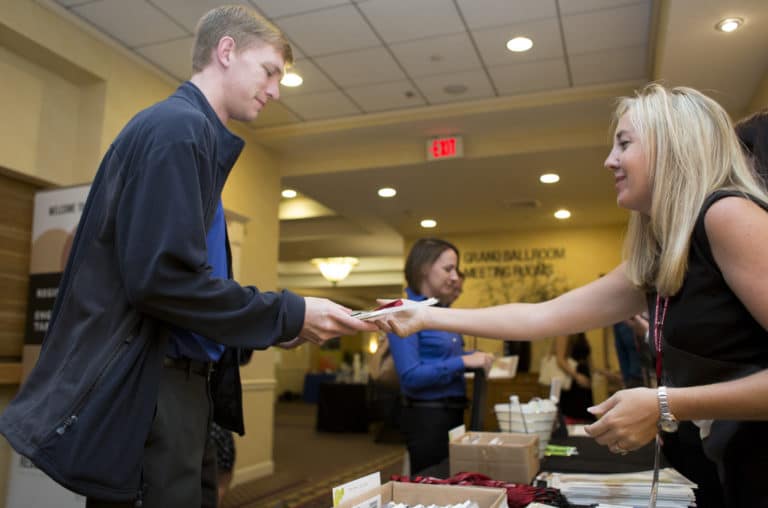 JU: MedTech's focus seems to be on community, scalability and tools for success in today's competitive marketplace. With regard to tools — how are MedTech companies measuring success these days? Is the focus still on speed to market, or are you seeing a shift with new competitive pressures?
JC: With the onset of the Affordable Care Act, the business of healthcare has changed dramatically as the focus has shifted to health outcomes and behavioral changes.
For example, information-leveraging technologies including smartphone applications and sensors are empowering patients with transparent information and giving them more control over their health. Further, to help reduce costs and improve quality, companies are changing the way they innovate and identifying efficiencies in production.
Our "Manufacturing Innovation" panel at MEDTECH 2015 also features industry experts, including, as you know, Creation Technologies President and CEO Bhawnesh Mathur.  This session will examine how new technologies, partnerships and initiatives in manufacturing are reducing costs and production time, while also developing custom solutions including personalized devices, prototypes and injection molding.
I'm looking forward to hearing Bhawnesh speak to new industry trends and resources that you are leveraging for your customers, as well as how Creation's customers are innovating for their own marketplaces.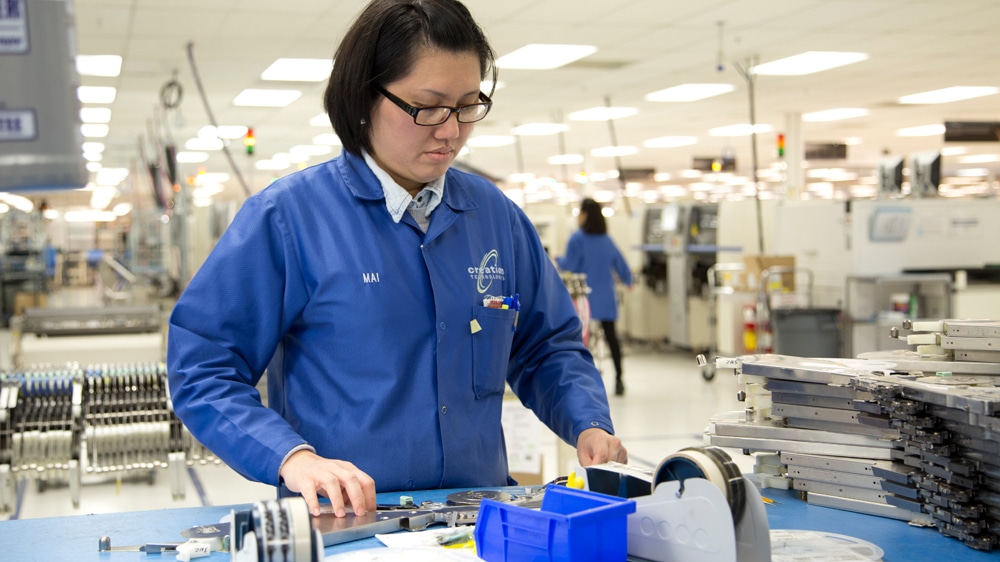 JU: MedTech talks about the vibrant community at its epicenter. Is there a success story you can share? What do you think are the indicators of a successful relationship?
JC: MedTech means different things to each of our members. Consequently, success or value for one may mean something completely different to another.
Member Bill Rader, president and CEO of Efferent Labs, Inc. participated in a MedTech Metro event in 2014, making a presentation on his development stage bio-device company focused on implantable biosensors. Someone in the audience followed up with him afterward and encouraged him to apply for the 43North Competition – the world's largest business competition with $5 million in cash prizes.
Bill took the advice and applied. He later learned he was a semi-finalist and ultimately took home second place and $500,000 and more in cash and incentives to locate in Buffalo, NY.
Efferent Labs, Inc. is now on the fast track toward success – made possible through a MedTech connection.
JU: Back to the origins of MedTech and its goals – this year's MEDTECH 2015 conference surfaces some new areas of focus like, "How to Play Nice with Others".  What is your prediction for medical device companies in the next year?  What might be some hot topics at MEDTECH 2016?
JC: The theme for MEDTECH 2015 is focused on convergence and how new industry trends are leading to unique opportunities for partnering and investment. To remain competitive, industry stakeholders including payers, providers and patients, are coming together in novel ways.
Consolidation has become the norm as bigger appears to be better in the post Affordable Care Act world. Traditional consumer giants like Google and Samsung with either technical expertise or market share are also leveraging strategic partners to enter the Bio/Med industry. This paradigm shift is heating up competition and creating unique opportunities for collaboration.
This year's "How to Play Nice with Others" panel discusses emerging channels for consumables and the repurposing of technology to appeal to varying populations, as well as the challenges that arise from new players entering the healthcare market.
And it's unlikely that these trends are behind us.
Provider systems around the country are following payers' moves, also entering into new relationships at a feverish pace. Just this year, Barnabas Health and Robert Wood Johnson Health System combined their 11 hospitals to form New Jersey's largest health system and Prime Healthcare Services' takeover of six-hospital Daughters of Charity Health System. And private practice acquisitions are happening daily in the health delivery space.
MEDTECH 2016 will continue take on these trends and more when we return to Albany, NY next fall.
If you haven't already registered, it's not too late! I believe there are still a few tickets left for MEDTECH 2015, which you can get by contacting events@medtech.org.
I'm looking forward to hearing all about MEDTECH 2015 from Jessica and the folks at MedTech, as well as from Bhawnesh and the other Creation folks who are attending.
If you missed it, Bhawnesh shared a sneak peek here of his thoughts around the complex subject of Manufacturing Innovation in medical devices.
And maybe Connie Griffin will publish a recap to go along with her lead-up post to the conference that presents an interesting perspective on the impact manufacturing and the medical community are having on revitalization in New York State.