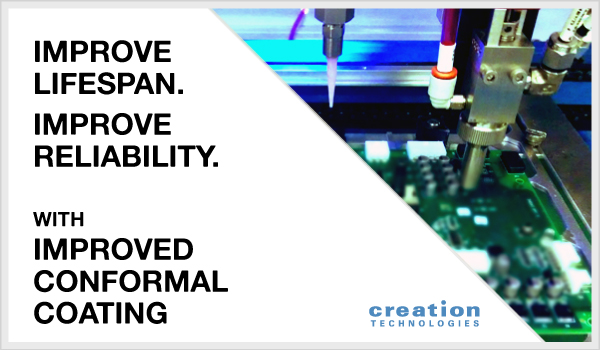 Demand is growing for electronic devices that can be used in harsh or hygienic environments.
Conformal coating–when it's designed and applied correctly–is one way to improve reliability and lifespan for products in these conditions. It can help protect electronics against chemicals, dust, shock, stress and other hazards.
Over the last decade, we've seen methods for applying conformal coating improve significantly.
Overall, equipment is now highly configurable, offering greater system flexibility for varying customer requirements.
Selective conformal coating systems and inverters now offer sophisticated, automated solutions that greatly increase efficiency and quality in the production process.
Inline heating ovens ensure optimum performance of coatings through accelerated curing.
At Creation's Milwaukee manufacturing facility, we have multiple customers whose products require various conformal coating applications. We also see more projects and potential projects in the pipeline that will require this technology.
So we're very excited about Creation – Milwaukee's new Precision Valve & Automation selective conformal coating line!
Designed for high levels of accuracy and repeatability, our new equipment arrived and we began installing it in December.
We are now in the process of converting programs, and are looking forward to the benefits that this new conformal coating line will bring to Creation and our customers.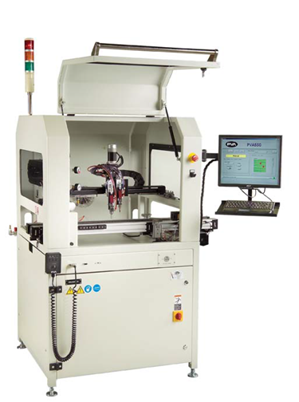 Excellent Quality
This selective coating system enables us to produce high-quality assemblies at a more rapid rate.
With its precision dispensing, the PVA650 Selective Coating / Automated Dispensing System is incredibly accurate (to 25 microns!), and eliminates the need for most masking and protecting of certain components.
It has four-axis motion featuring optical encoder feedback on all axes, designed for the high-density and high-complexity assemblies that Creation specializes in manufacturing.
Multiple dispensing applications or materials can also be treated in one cell.
Increased Efficiency
The integrated PVA BI2000 Board Inverter Module gives us the ability to conformal coat both sides of an assembly without sending it through the process twice. It also enables us to work bi-directionally depending on the coating requirements.
Improved Performance
The PVA IR2000 offers custom heat profiling using infrared panels to efficiently cure adhesives and coatings in a controlled, heated environment.
If you have questions about our new capabilities, or would like more information about the best way to incorporate conformal coating into your product design or layout, don't hesitate to send me an email.
Have you experienced challenges with conformal coating in the past? How did you solve them?