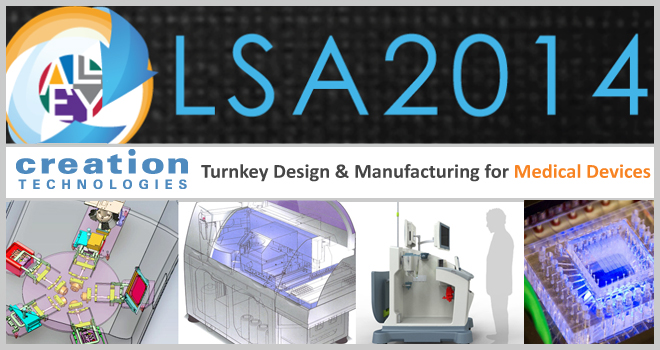 For many decades, Minnesota (and indeed, the Mid-West) has been a critical hub for development in Life Sciences, Pharmaceutical, Biotechnology and Medical Devices.
For a Biomedical Engineer-cum-EMS Industry Professional like me, this era of innovation and technological advancement in the Medical industry, and Medical Devices in particular, is extremely exciting.
I wanted to write a quick post to let everyone know that Creation Technologies and Creation Design Services are this year's Innovation Station sponsors at the LifeScience Alley, LSA 2014: The Health Technology Leadership Conference, on November 19th at the Minneapolis Convention Center!
LifeScience Alley, its members and people, are great. Much more info about the organization and its members can be found on their great new website, but here's the overview for anyone not familiar with LSA:
With a 28-year track record of providing valuable services and results-oriented outcomes to its members, LifeScience Alley improves the life science operating environment and enables business success through educating workforces, influencing state and federal public policy, supporting advancement in research and technological innovation and fostering industry connections.
Creation Technologies is exceptionally pleased to be a partner at this year's conference. We know it will be a great success for LifeScience Alley, as it is every year.
We'll be sharing more about the conference and our exciting Innovation Station exhibit in the coming months. (Drum roll, please!)
Until then, I'd love to chat about the medical devices and other things that we're designing at Creation Design Services. Give me a call at 262.501.6686 or send me an email any time.
My colleague, Katie, also loves to "talk tech" and can fill you in on exciting happenings at Creation's manufacturing business units in Minnesota, Wisconsin, Illinois and beyond. She can be reached at 651.242.4344 and any time by email as well.
We invite you to come to any of our Creation Design Centers or Manufacturing Business Units anytime for a visit, check us out at www.creationtech.com.
We look forward to seeing you at LSA 2014 in Minnesota in November!