Vancouver, BC | November 24, 2015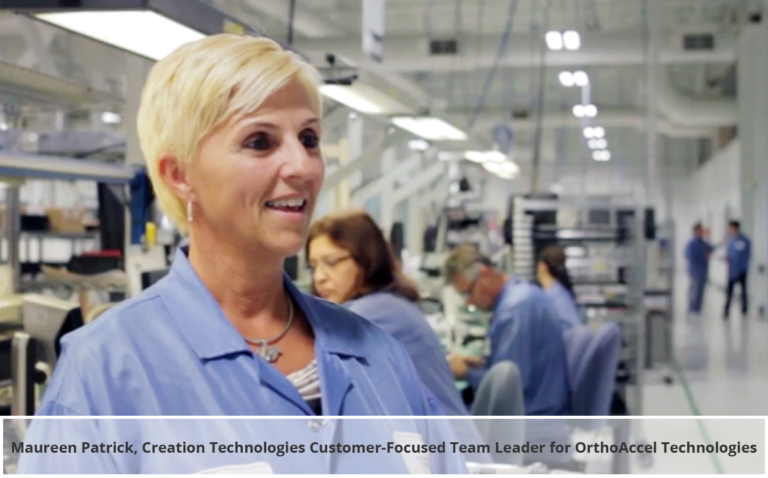 At Creation Technologies' Texas facility, OrthoAccel manufactures AcceleDent®, a FDA-cleared, Class II medical device that speeds up orthodontic tooth movement by as much as 50 percent. AcceleDent is recommended by many of the industry's leading orthodontists as the fast, safe and gentle solution to accelerate orthodontic treatment.
A staggering 100 percent of patients surveyed in an independent study reported that they are satisfied with their experience using AcceleDent and that it was easy to use. In addition, a recent Journal of Clinical Orthodontics revealed that AcceleDent is the most common accelerated treatment technique used by orthodontists.
"The innovation and passion at OrthoAccel is tremendously exciting, and we're thrilled to be able to help them adapt and scale as their market responds to their revolutionary product," said Creation–Dallas General Manager, Scott Hitt. "I don't know many companies that can say that they are a market leader with a growth rate of one thousand percent and are delighting one hundred percent of their customers. We're delighted for them and can't wait to see what they do next."
At number 69, OrthoAccel is the only orthodontic company and the only Houston-based company on the 2015 Deloitte Technology Fast 500. The company reported a 1,171 percent growth from 2011 to 2014.
To read the OrthoAccel press release, visit their website.
---
About Creation Technologies
Creation (www.creationtech.com) provides total product lifecycle solutions including turnkey design, rapid prototyping, manufacturing and fulfillment to its customers around the world. Since 1991, Creation has been focused on making it easy for OEMs to 'say yes' to their customers. The company of approximately 3,000 people operates nine manufacturing locations, two design centers and a rapid prototyping center in the USA, Canada, Mexico and China. Its OEM customers are in the Industrial & Instrumentation, Medical, Communications, Transportation, Aerospace, Defense & Security, and Energy & Environmental markets.